Throughout 2023, the weather can be described as quite unpredictable. This year's dry season is prolonged more than usual, and we have just seen it starting to end in several regions in late October. The rainy season has just gradually started in some regions in early November 2023. According to the Meteorological, Climatological, and Geophysical Agency (BMKG), in addition to the effects of global warming, the El Nino phenomenon also plays a significant role in making the weather unpredictable. The peak of the El Nino impact occurred since September, and it is predicted to continue into the next year.
Shrimp cultivations have also felt the impact of this unpredictable weather. It is thus essential for shrimp farmers to pay attention to weather and temperature changes to take the most appropriate steps for their farms.
How does hot and cold weather affect shrimp?
Weather is closely related to temperature, and temperature affects shrimp growth, survival rate (SR), oxygen consumption, molting cycles, and immune responses. The recommended temperature for cultivating vannamei shrimp is 26-32°C. The prolonged hot weather throughout the year has caused an increase in water temperature in shrimp ponds. When the temperature is too high, shrimp metabolism speeds up, and their appetite increases. This results in a higher feed conversion ratio (FCR). Although shrimp are fed more, the excess food is not absorbed as it is used for increased metabolism and activity due to the rising temperature. Additionally, shrimp become more sensitive to toxins produced by blue-green algae (BGA).
What about areas that have witnessed the start of the rainy season? Rainy seasons tend to cause drops in temperature. Low temperatures can cause stress in shrimp, leading to mortality, especially for shrimp already infected with Vibrio. Low temperatures also make shrimp more susceptible to diseases due to weakened immunity.
Read more: The Effect of Climate Change to Shrimp Condition
What should farmers do when the weather is unpredictable?
Global warming and El Nino issues make it increasingly crucial for shrimp farmers to monitor their pond conditions and ensure they are comfortable enough for the shrimp. Rising or falling temperatures require different actions from farmers. If the temperature is too high, farmers are advised to optimize their pond paddle wheels and change the water if possible. On the other hand, during low temperature conditions, check the feeding trays to evaluate shrimp's appetite and adjust their daily feed accordingly.
Read more: Simple Tips for Shrimp Farming in the Rainy Season
Check your pond temperature and water quality with Baruno!
Temperature is one of the crucial parameters that shrimp farmers need to regularly monitor, especially when the weather is unpredictable. In addition to temperature, there are various water quality parameters that should be monitored, such as pH, dissolved oxygen (DO), and salinity. Nearly every effort made in shrimp farming aims to maintain water quality. Ideal water quality allows shrimp to survive, eat, and grow well, helping farmers reach their desired profitability.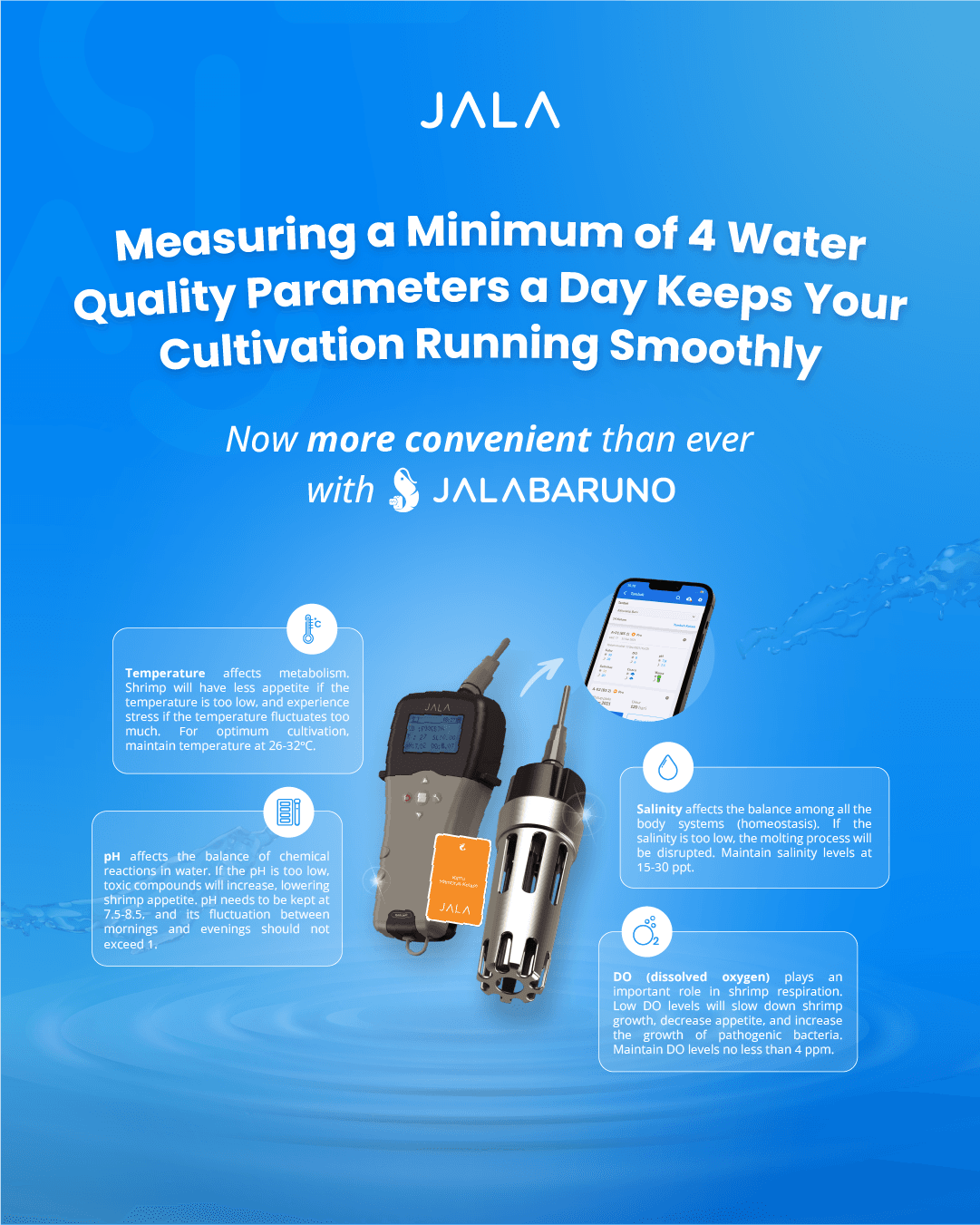 To help shrimp farmers in monitoring water quality, JALA offers Baruno, a convenient, accurate, and robust water quality measurement device. Baruno can measure four water quality parameters (pH, DO, temperature, salinity) for up to 10 ponds in a single measurement. Measurement data is stored in the JALA cloud and can be monitored anytime, anywhere using the JALA App.
Through Baruno, JALA is #HeretoHelp shrimp farmers achieve a more productive and sustainable cultivation, especially in the face of unpredictable weather. By monitoring temperature and other water quality parameters, farmers can understand the condition of their ponds and adjust them to create an environment that supports shrimp growth. What are you waiting for? Start using Baruno and make your shrimp cultivation a success!
Resources:
Kapan Musim Kemarau 2023 di Indonesia Berakhir? Ini Prediksi BMKG | Detik Pengaruh Suhu Terhadap Udang | JALA