Every shrimp farmer needs to consider several things that can increase the success rate of cultivation productivity. One of the success factors of shrimp farming is related to weather. The characteristics of this external factor cause an additional perspective to run a cultivation. Favorable weather conditions affect all stages of cultivation, from stocking to harvesting.
This directly affects the cultivation itself. Farmers often have a hard time optimizing the result of cultivation. Triggered by this issue, JALA initiated a research on the factors that affect survival rate (SR) and cultivation productivity, two significant elements that determine the final result of cultivation. This research was conducted by analyzing cultivation data recorded on JALA App. Based on the weather data taken, JALA discovered that weather is closely related to SR and cultivation productivity.
Factors that affect survival rate and cultivation productivity
Weather information is represented by rainfall data that fluctuates during the whole year. The weather condition itself is related to the prevalence of diseases. As for the example, the virus that causes White Spot Syndrome Virus (WSSV) disease is active at temperatures below 28°C, hence this disease is often found during the rainy season when temperatures are below 28°C. Besides, shrimps' appetite will also decline when the temperature drops. When the appetite decreases, shrimps become weaker, causing the SR to drop as well.
According to the analysis of cultivation management data, JALA found out that the first 30 days of cultivation is the most crucial time for SR and the determination of productivity by the end of the cycle. Besides, JALA also found out that SR is greatly affected by stocking time, pH, and dew point temperature.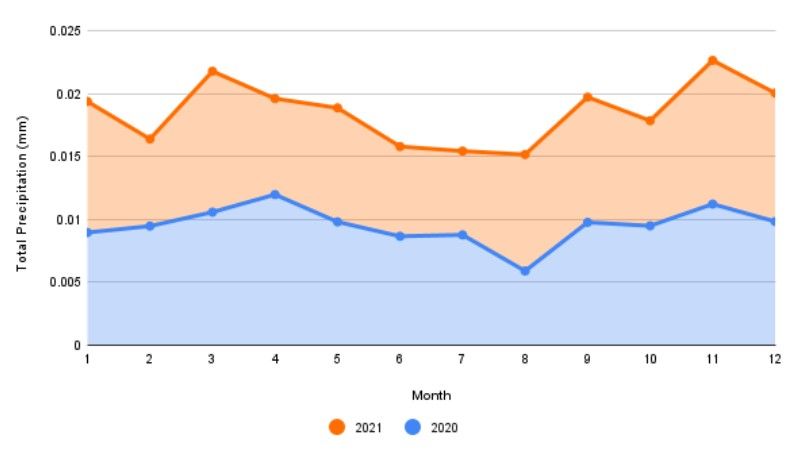 The graphic depicts the relationship between rainfall and stocking time.
JALA's research findings on survival rate and cultivation productivity
An analysis that elaborates rainfall and cultivation productivity data shows that cycles that begin in January and July can achieve a better SR. Meanwhile, cultivation cycles that begin in October results in lower SR. Furthermore, cycles that begin in July can achieve the highest SR and productivity.
The influence of stocking time to SR and productivity is indirect. It is believed that there are other factors that also affect mortality rate and cultivation productivity. In terms of rainfall, it can be seen that January and July, which are the best times based on the analysis, do not have significant differences with other months that are considered failing to result in a good SR and productivity.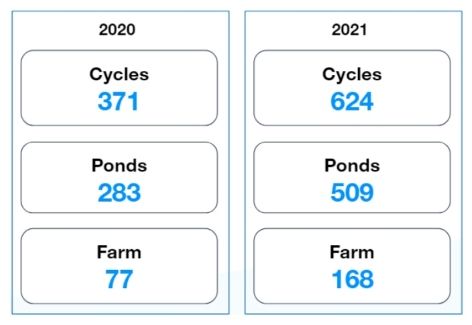 The data from JALA Apps that JALA used for this research.
This research was conducted using data in 2020-2021. Those data were processed and thus become an information that can be applied in cultivation, even as one of the considerations for making decisions.
However, in practice, SR and productivity adapt to the conditions in the field. There are a lot of other factors that affect it. Hence, shrimp farmers still have to be fully aware of their ponds' condition if they want to achieve success.