Shrimp disease is one of the most dreaded threats faced by farmers. To ensure that cultivation runs in a more productive and sustainable manner, practical measures need to be taken in order to identify and deal with shrimp diseases before they result in greater loss. To equip farmers with the required insights on shrimp disease, JALA held the SHRIMPS TALK online webinar on September 27 2023.
The 10th webinar in the SHRIMPS TALK series was attended by 2 esteemed speakers: Mila Ayu Ambarsari, S.Pi., M.Si. (Laboratory Analyst of Shrimp Club Indonesia), who shared about Water Quality Management as a Preventive Strategy Against Shrimp Disease, and Prof. Dr. Esti Handayani Hardi, S.Pi., M.Si. (Professor in the Faculty of Fisheries and Marine Science of Mulawarman University and Treasurer of MAI), who shared about Early Diagnosis and Characterization of Shrimp Disease. 89 attendees participated in the webinar.
Water Quality Management as a Preventive Strategy Against Shrimp Disease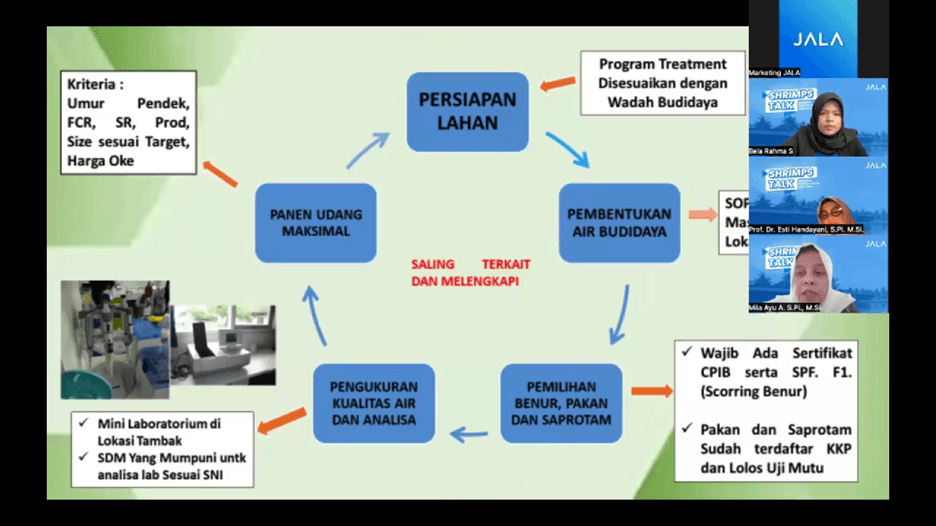 In her presentation, Ms. Mila explained that shrimp diseases are caused by unfavorable plankton dynamics, which have a negative impact on shrimp growth. Therefore, shrimp farmers need to understand pond dynamics by regularly monitoring water quality as an "early warning indicator" for shrimp diseases.
As the primary environment for shrimp growth, pond water needs to be properly treated and monitored accurately. If the measurements are incorrect, the data collected may be inaccurate and lead farmers to choose less suitable treatments for their ponds.
To implement an effective monitoring system, shrimp farmers need to determine which water quality parameters to prioritize. Parameters such as pH, dissolved oxygen (DO), temperature, and salinity need to be checked daily. However, there are also parameters that only need periodic checks (at least 3 times a week), such as alkalinity, ammonium, and bacteria. Then, determine the device and methods for measurement, ensuring that the device is calibrated correctly. Conduct regular evaluations and re-monitoring to ensure that the parameters remain within the appropriate range.
Shrimp diseases can be caused by an imbalance in plankton dynamics, shrimp, and microbes. To detect diseases early, regular observations and accurate lab tests are required. For example, EHP disease can be indicated by low Average Daily Growth (ADG) values and small hepatopancreas size.
Ms. Mila also shared that every stage of cultivation, from farm area preparation, water management, blind treatment, to maintenance during cultivation, plays a crucial role in ensuring the success of shrimp farming. In addition to monitoring water quality, carrying capacity, and biosecurity should also be maintained for productive and sustainable farming.
Laboratory and water quality data can provide valuable insights when monitored regularly. Farmers should evaluate their cultivation from cycle to cycle and build the habit of data-driven shrimp farming instead of simply using their instincts.
Early Diagnosis and Characterization of Shrimp Disease
In the next session, Prof. Esti shared that pathogens are one of the major causes of problems in shrimp farming. Shrimp mortality caused by pathogens can reach 30-80%. There are several mitigation strategies that farmers can take. The first is to strengthen the shrimp's ability to withstand adverse environmental fluctuations and stress through the administration of nutrition and immunostimulants, improving the health of the shrimp's gut, and reducing mycotoxins from pathogens.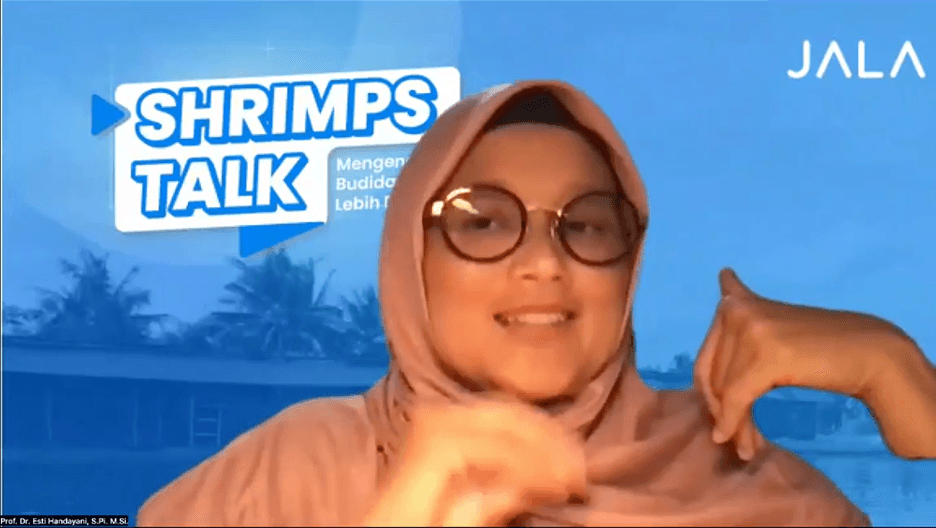 Prof. Esti also explained that pathogens like Vibrio are obligate pathogens that require a host to survive. However, if the intensity or quantity of pathogens is not high enough, they cannot cause disease, so their numbers must be controlled. Pathogens need to be controlled as early as possible to prevent antimicrobial resistance.
There are various types of diseases in shrimp ponds, both non-infectious and infectious. Infectious diseases can be caused by viruses, bacteria, fungi, and parasites. Therefore, farmers need to learn to distinguish between healthy and unhealthy shrimp through observation. Some characteristics of healthy shrimp include bright color, smooth body, active movement, and responsiveness to light (healthy shrimp will avoid light). On the other hand, unhealthy shrimp tend to have pale color, reddish tails, are inactive, and have slower responses.
Diseases can also be prevented by improving the quality of the environment, especially by maintaining water quality, reducing sediments to control the level of organic matter, and reducing environmental waste, especially nitrogen and phosphorus. Lime treatments and flushing the bottom of the pond can also help maintain pond water quality.
Both materials were well received by the attendees. During the Q&A session, they also addressed questions about the challenges and solutions to face shrimp diseases in their farm. JALA hopes that the shared information will be an important reminder for farmers in taking preventive measures against shrimp diseases, ensuring that their cultivation is on the path of success and hindering unwanted losses.
If you are involved in the shrimp cultivation industry and want to improve your farm productivity with the latest information, tips, and insights, follow JALA's Instagram at @jalaindonesia so you don't miss the next SHRIMPS TALK and other upcoming events. See you in the next SHRIMPS TALK!