Indonesia only controls 5% of the world's shrimp consumption. Another version states that the production of 450-500 thousand tons per year of which 200 thousand are exported puts Indonesia claiming 12% of the world's shrimp market share in 2017. Even though with this achievement, Indonesia has been able to sit in the top five world shrimp producers. Indonesia's position is still below and far behind India and Indonesia's closest rival now, namely Vietnam.
The future of shrimp farming in Indonesia is very long considering the increasing global demand for shrimp. It would not be an exaggeration if the government set a target of increasing exports by 250% in 2024. This target was achieved by expanding extensive shrimp ponds to become more productive and increasing the added value of Indonesian shrimp products.
Observing the cultivation behavior of Indonesian shrimp farmers
The proportion of extensive ponds in Indonesia is still quite high, which is around 34.2%. In terms of the number of units of shrimp ponds, intensive ponds dominate with a percentage of 45.9%. Although assuming the land area or pond area used may still be larger in extensive ponds which usually use large pond sizes (0.5-1 hectare per pond).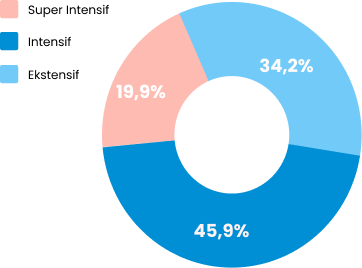 Referring to the length of cultivation, Indonesian farmers on average cultivate 80 days. The time is quite ideal to get the size of the shrimp at a good selling price. The peak of the 2021 harvest will be in August, which correlates with the number of farmers starting their cultivation at the end of April, May, until the end of June. The possible trigger is the dry season which is quite ideal for starting cultivation.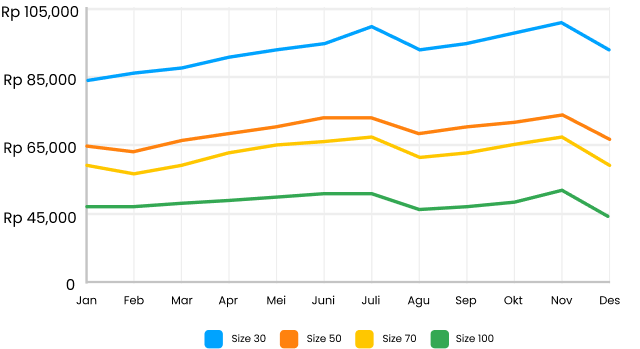 However, the impact on shrimp prices in August tends to fall. Whereas referring to previous years, August is the initial phase of peak shrimp prices which usually occurs from September to October. Another factor in determining the price of shrimp is demand. Indonesia is still too dependent on export market dependence. Indonesia's export destination market options are not varied enough, because they are still too dependent on the US and Japanese markets.
Shrimp production performance in 2021: worrying and strategic steps are needed for aquaculture efficiency
In terms of production performance, Indonesian shrimp ponds throughout 2021 show several important records. The survival rate (SR) and feed conversion rate (FCR) performance in Indonesian shrimp ponds are not good. The majority of SR is still below 75% and FCR is at 1.48-1.82. Figures that are not too impressive for the performance of shrimp ponds.
The only positive note is on trying to make the shrimp grow faster. The majority of shrimp ponds are able to encourage shrimp growth rate (ADG) of at least 0.2 grams/day. At its best performance, it is able to maintain an average ADG of more than 0.3 grams/day. However, if it is not balanced with the ideal SR and FCR, productivity will be depressed.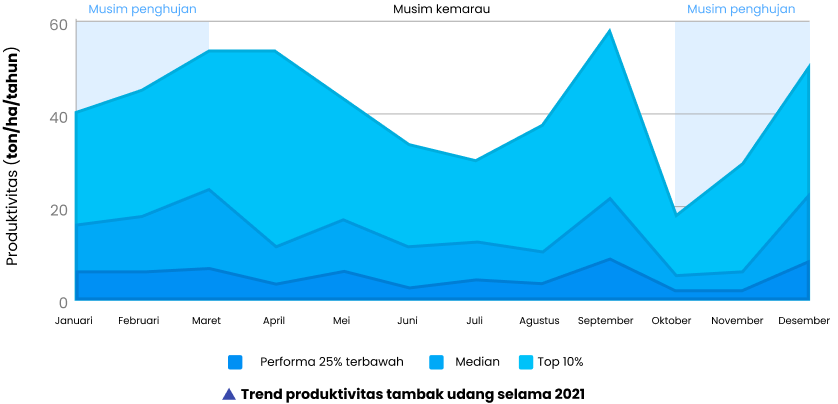 Conditions in the field, pond productivity has not been optimal. Intensive ponds recorded a median productivity value of only 9.26 tons/ha and 19.35 tons/ha for super intensive ponds. At their best performance, super intensive ponds were even able to record productivity of 36.97 tons/ha. If referring to the government's target of 30 tons/ha productivity, only a small number of intensive and super intensive ponds are able to fulfill it, perhaps only about 20% of the existing pond population.
Water quality is a crucial factor in shrimp farming. Improving water quality management will contribute to other productivity parameters such as SR and FCR. The farmer's obligation is to maintain the conditions of the ideal range of shrimp growth and daily fluctuations (morning-evening) that are not too high. The results of the JALA analysis, special attention should be paid to the cultivation period past 60 days of cultivation. Especially in the parameters of dissolved oxygen concentration (DO) and pH, which tend to continue to fall. Strive for DO not less than 4 ppm and pH in the range of an 7.5-8.5. Maintaining stability is important to prevent shrimp stress on shrimp.
In addition, disease is still a serious threat. Two types of disease (AHPND and WSS) still lurk in neglected shrimp ponds with good biosecurity and culture management protocols. One to two ponds in Indonesia have the potential or even confirmed the presence of pathogens that cause AHPND or WSS. Unfortunately, these two diseases have high mortality rates. Shrimp farms that survived until harvest were only able to maintain a SR of 29-33%.
Worrying but still optimistic about the 2024 target
Based on the aforementioned performance, the condition of the Indonesian shrimp industry is growing quite slowly. It only grew 4.9% in volume and 8.5% in export value. Still worrying, based on the opinion of Budhi Wibowo (Chairman of the Indonesian Shrimp Forum) on his opportunity to be a resource person at the JALA webinar. Although it is not impossible to realize the targets set by the government. Serious improvement steps are needed so that growth in production volume and export value returns to 15% and 20% per year.
From a business point of view, the cost of shrimp production is still quite high. Farmers must strive for harvests above size 100 in order to get a sufficient profit margin. This is because the average cost of shrimp production reaches Rp. 50,000/kg, which means that it is only Rp. 1,000-Rp. 1,500 different from the price of shrimp of size 100. Cultivation efficiency is an important concern to improve.
Five regions that represent the spirit of Indonesian shrimp production include Garut, Indramayu, Buleleng, Gresik, and Situbondo. Farmers in these five areas were able to record quite impressive productivity and productivity supporting factors.
Concrete strategies for the realization of increasing shrimp exports
Various facts about the performance of shrimp ponds have been bagged. Several gap points for improvement have also been identified. Now it takes concrete steps and strategies to be realized by various parties. Quoting from several sources who were present at the JALA Webinar regarding Indonesian shrimp production, several things that could be done in 2022 were drawn, including:
Regular monitoring to collect cultivation history. The existence of cultivation records can make it easier to observe and intervene if problems occur or even predict the occurrence of disease.
Guarantee the quality of feed to support shrimp growth. This commitment has been agreed by the Association of Animal Feed Companies (GPMT) with its various innovations.
Clarity of licensing for shrimp farms, especially for old farmers. The completion of the regulation on aquaculture permits is predicted to support export growth of up to 10%.
Special attention to increase the production capacity of extensive ponds.
Watch the full analysis of the Indonesian shrimp industry in the following video
The spread of various problems and challenges does not mean a reason to give up. Because with the current conditions, Indonesia has always been the top five shrimp producers in the world. The collaboration of shrimp farming actors with all industry stakeholders will be able to overcome production inconsistencies, improve supply chains, increase competitiveness, and ensure sustainability.
Shrimp farming does not only meet the world's protein needs, but also contributes to the balance of the world's natural resources and fisheries.