The decline in shrimp prices was a major issue in 2022. Indonesia was not the only country to experience it as the decline happened all over the world, particularly in the second half of the year. Indonesia's shrimp prices fluctuated throughout the year, with more stable prices in the first quarter (January to March), followed by an increase with a peak in March-April.
However, shrimp price trends started changing in April to May. During this period, there was a drastic decline, especially for larger shrimp such as size 30. The prices slightly recovered in July, but experienced a free fall in mid-September.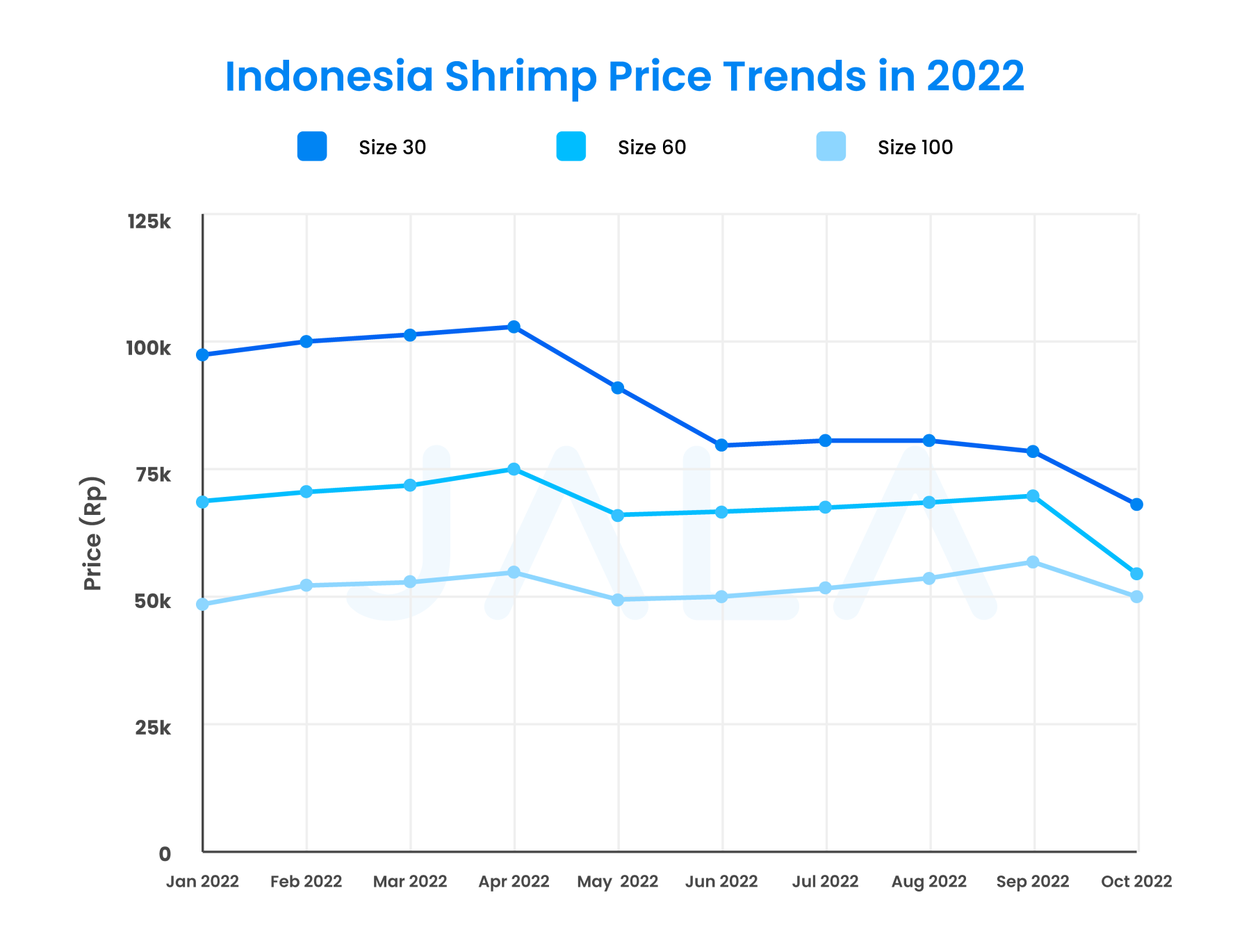 The oversupply of shrimp became one of the reasons for the decline in its price. The increase of shrimp production in Ecuador toughened the competition for Indonesia. Although India is one of the major players in the global shrimp industry, it also experienced a production decline.
The decrease of shrimp demand from Indonesia's main export destination, the United States (US), also occurred. This decrease was caused by signs of recession experienced by the US as well as the tough competition from rival countries. The recession especially affected the demand for larger shrimp.
Shrimp price trend observation in various Indonesian regions 
Aceh - North Sumatera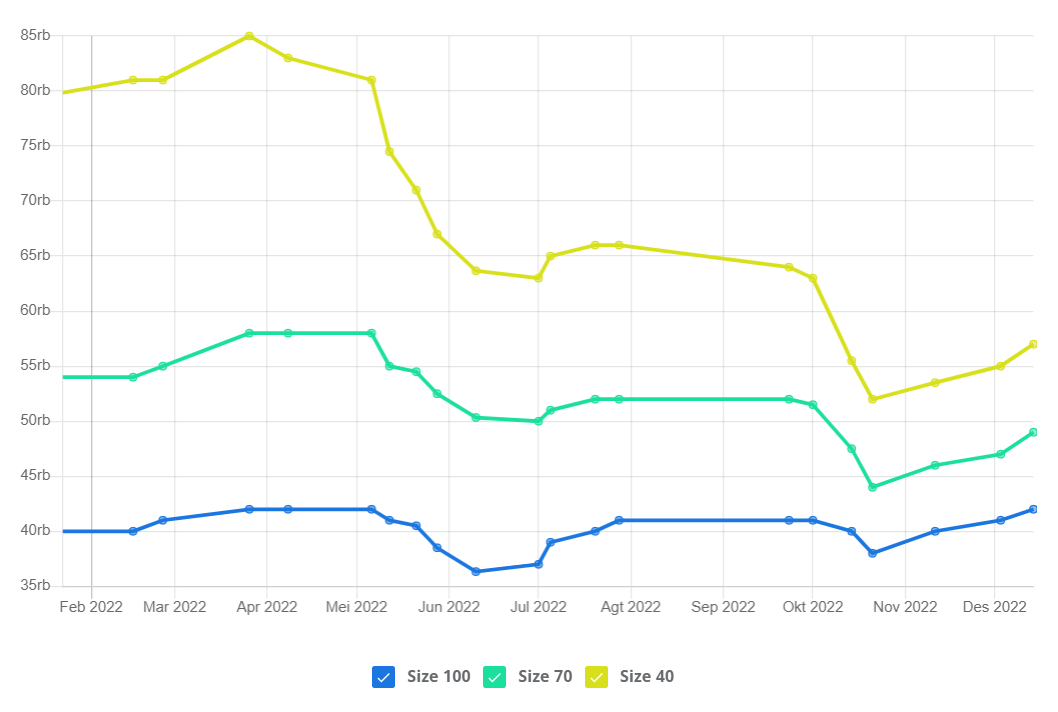 Aceh shrimp price trends in 2022
In the Nanggroe Aceh Darussalam (Aceh) province, shrimp price reached its peak in March. The lowest point was witnessed in the beginning of June, with a slight recovery in July. However, towards the end of September, the price once again fell, especially for larger shrimp (size 40 and 70). Towards the end of the year, the price slowly rose.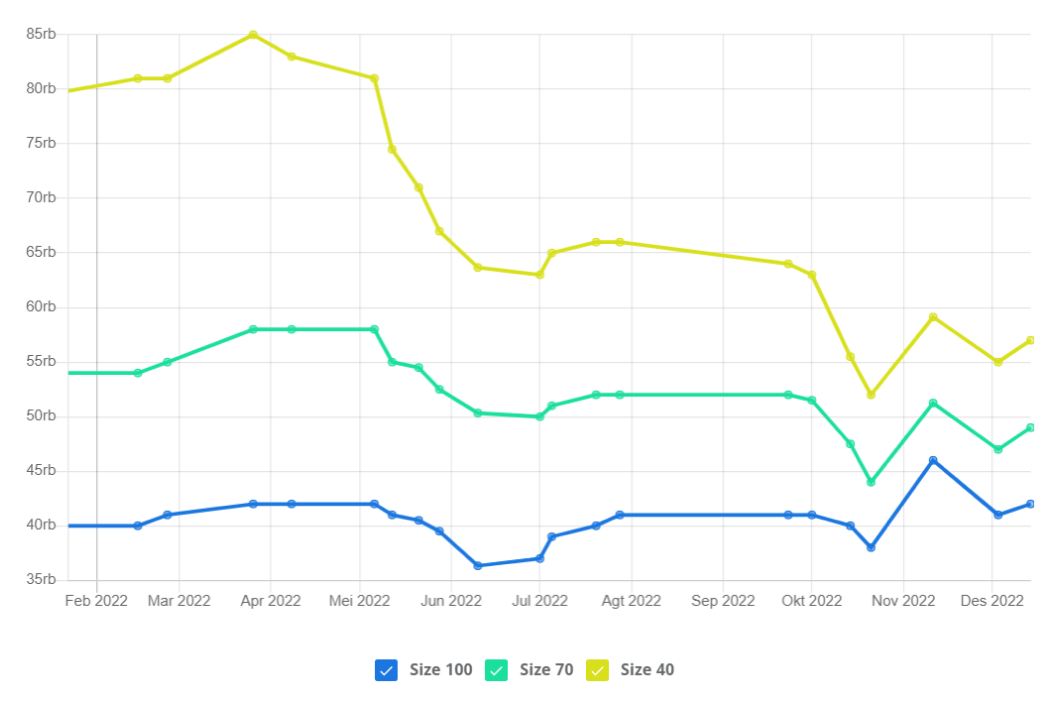 North Sumatera shrimp price trends in 2022
Shrimp prices in North Sumatera had a similar trend as in Aceh. A positive trend was observed at the start of 2022 with a peak in April. The lowest points were observed in mid-June and October, with the worst condition in September-October, where medium-sized shrimp (size 70) only had a slight price range with large shrimp (size 40).
West Java
Shrimp prices in West Java experienced a constant increase since the beginning of 2022, with a peak in mid-April. During those periods, shrimp in sizes of 100, 70, and 40 had a price of Rp54.000, Rp71.000, and Rp93.000 per kg respectively. However, the prices slowly fell up to June. Although there was a slight recovery at the end of June, it reached the lowest point in the beginning of July, reaching Rp41.000 for size 100, Rp56.000 for size 70, and Rp71.000 for size 40.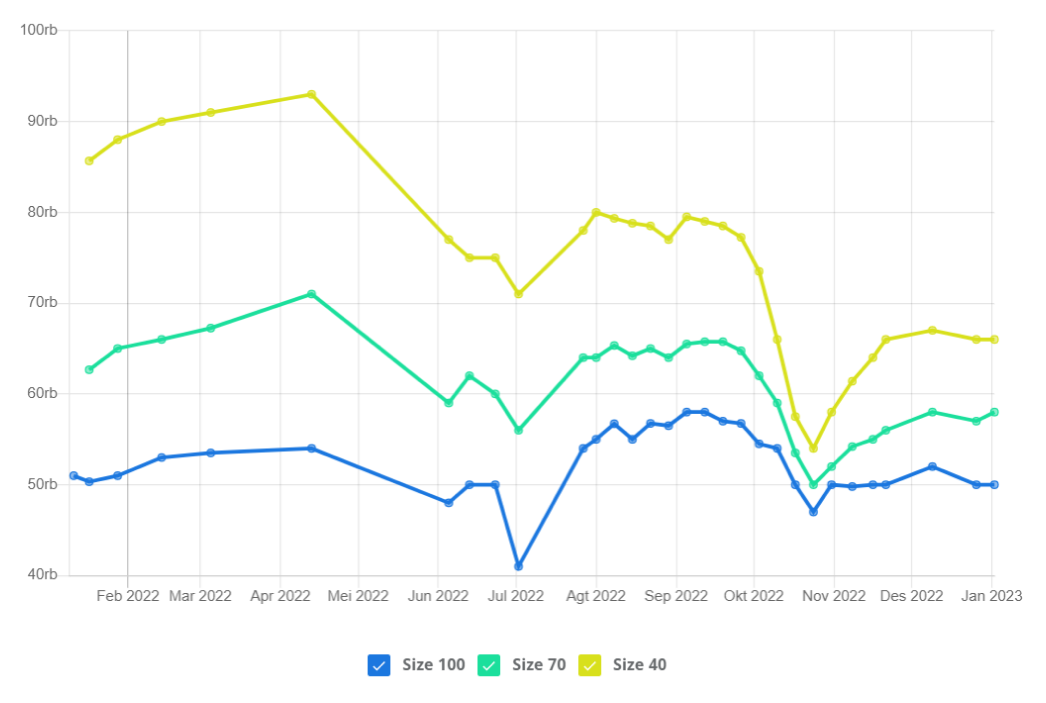 West Java shrimp price trends in 2022
Afterward, the prices started rising with normal fluctuations up to mid-September. Unfortunately, going into October, shrimp prices once again fell, with a greater impact felt by medium and large shrimp. The price range is not more than Rp5.000 for sizes 40, 70, and 100. An unfortunate condition indeed.
By the end of 2022, the price range for medium and large shrimp started increasing towards a more rational value. Shrimp prices is predicted to rise until the beginning of 2023, although a slower rise is expected.
Central Java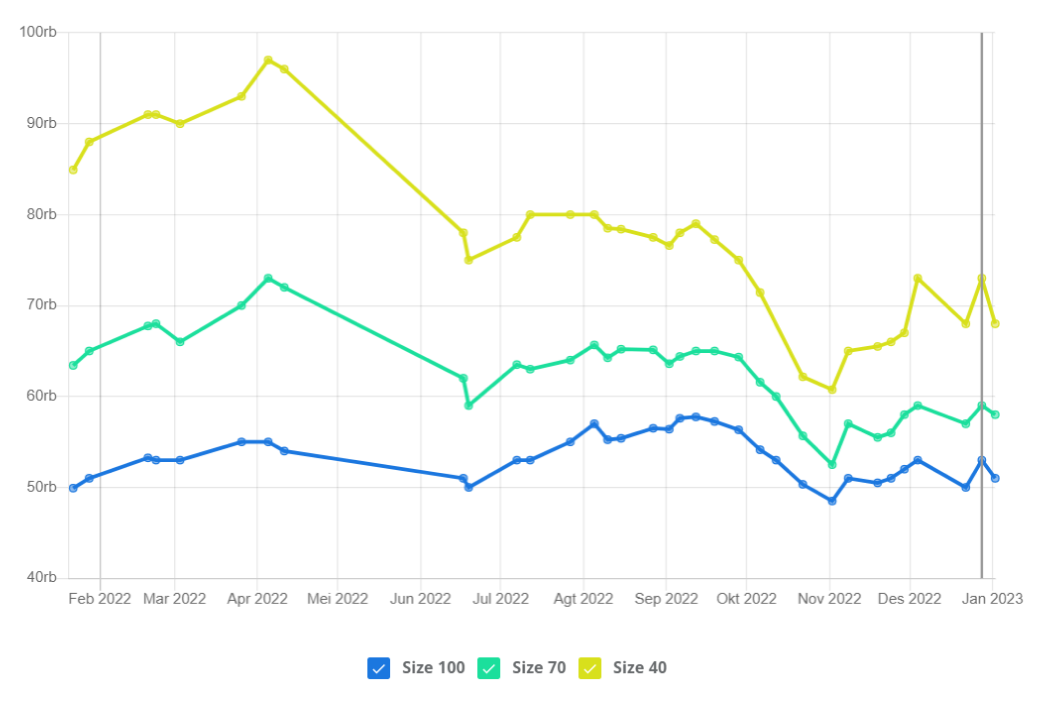 Central Java shrimp price trends in 2022
Similar conditions could be observed in both West and Central Java. In the beginning of 2022, shrimp prices rose to a peak in early April. Shrimp prices in Central Java were slightly higher: Rp55.000 (size 100), Rp73.000 (size 70), and Rp97.000 (size 40).
The lowest point for Central Java shrimp prices was observed in the third week of June: Rp50.000 for size 100, Rp59.000 for size 70, and Rp75.000 for size 40. The prices slightly increased in the third quarter. In mid-September, the price drastically fell to Rp48.500 for size 100, Rp52.500 for size 70, and Rp60.750 for size 40. These numbers showed the small price range between sizes which did not compare to the production costs.
Shrimp prices started recovering towards the end of the year although price fluctuations could still be observed. These prices were still considered low when compared to yearly prices as the values were still unprofitable for farmers.
East Java
The beginning of 2022 was a brighter time for most regions including East Java. Shrimp prices still rose with a peak in mid-April. In East Java, size 100 reached Rp56.000, size 70 reached Rp73.000, and size 40 reached Rp94.000.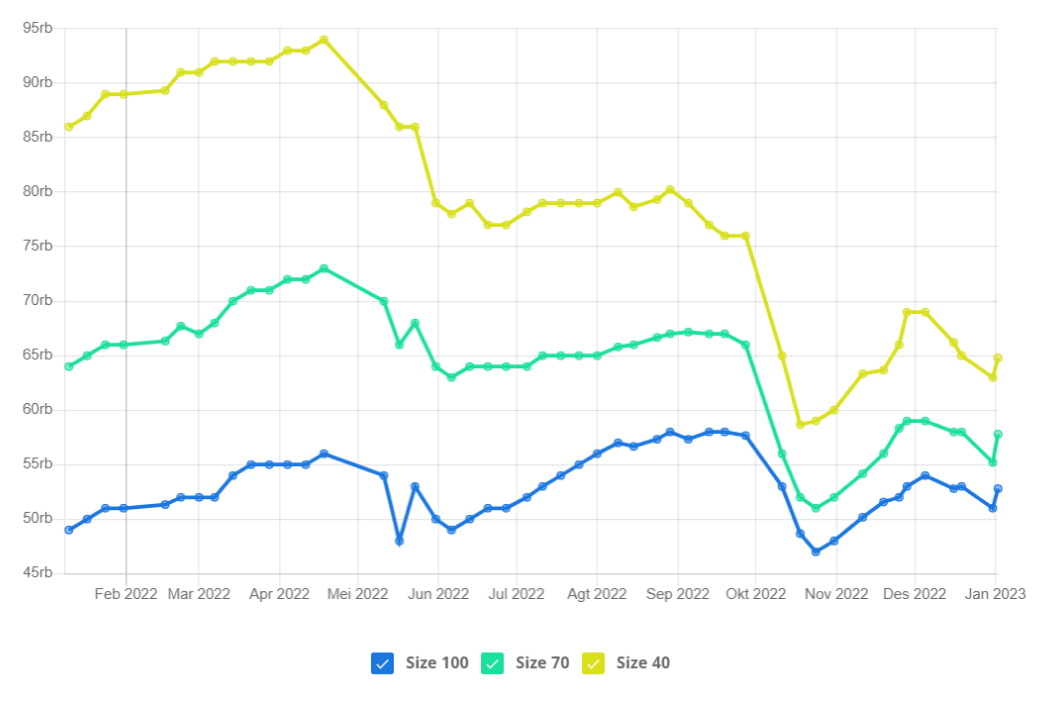 East Java shrimp price trends in 2022
Towards mid-May, shrimp prices decreased with a slight increase and another decline in early June. The lowest price for East Java was witnessed in the second and third week of October. Size 100 was only Rp47.000, size 70 was Rp51.000, and size 40 was merely Rp59.000.
Although the prices started recovering in November, it still had not reached the values in early 2022. The range for medium and large shrimp was also still low.
Bali - NTB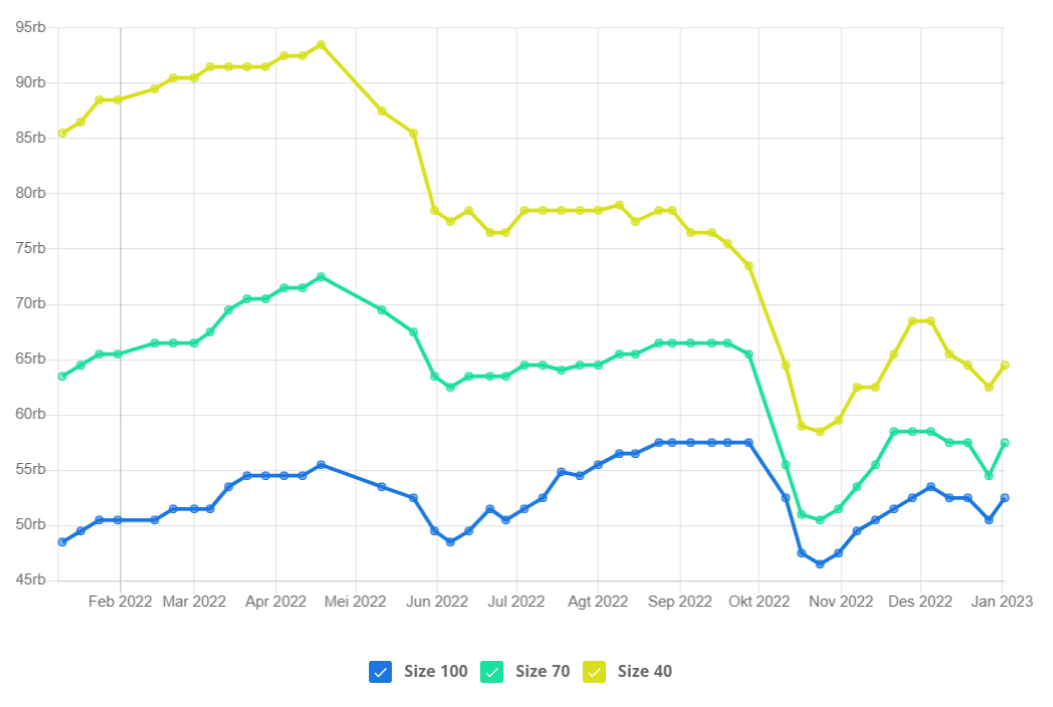 Bali shrimp price trends in 2022
Shrimp prices in Bali and West Nusa Tenggara (NTB) were similar to East Java. In Bali, prices were lower, with a difference of Rp500-Rp1.000 for each size. It was even lower in NTB, with a difference of Rp1.000-Rp2.000 from East Java prices.
A peak in shrimp prices was observed in mid-April. Bali and NTB shrimp prices also reached their lowest points as with other regions in July and October, with a very small price range between small, medium, and large sizes in October.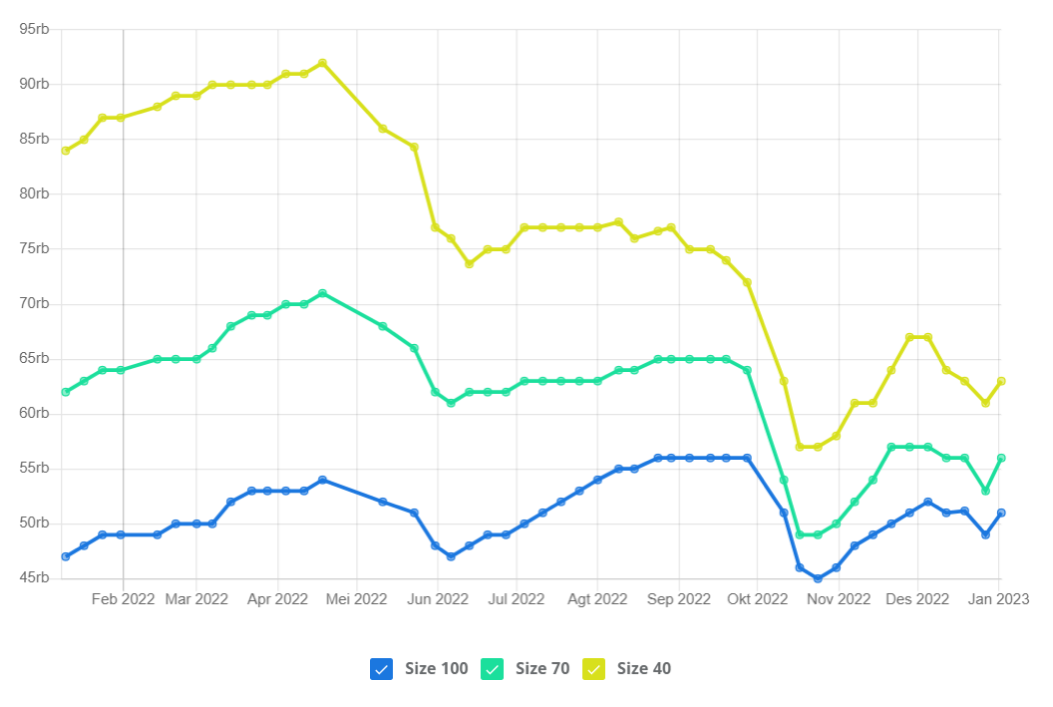 NTB shrimp price trends in 2022
The lowest point for NTB shrimp prices was in the third and fourth week of October. As with other regions, Bali and NTB shrimp prices were better towards the end of 2022 although they had not reached the price at the start of the year.
What factors caused shrimp prices to fluctuate recently? 
Shrimp prices declined due to exporters' warehouses being full. Shrimp stock took longer to be shipped due to the restrictions in China caused by COVID-19 policies. The panic among shrimp farmers further increased the existing stocks.
The US, which was Indonesia's main export destination for shrimp, also recently discovered a lower price from Ecuador. The US market was consequently filled with Ecuador shrimp, causing Indonesian exporters to postpone accepting new stocks. This caused panic harvesting among farmers which further lowered the shrimp price.
Shrimp prices in Indonesia also heavily relied on the global prices. As demands in the export market decline, cold storages will make less purchase, causing shrimp prices to decline.
Shrimp prices in international markets also impact export volume. Export prices and shrimp availability affect shrimp prices among farmers. Today's export value actually reflects the demand in the previous 2-3 months. Moreover, there is significant competition among producer countries.
In the midst of the competition, Indonesia is not the only country to supply shrimp to the world. Aside from ensuring an adequate supply, Indonesia needs to maintain its competitive edge in terms of selling price and production efficiency.
How is the shrimp price prediction in 2023? 
The main reason for the rise and decline of shrimp prices is market demand. Shrimp prices in Indonesia heavily depend on export markets. As it was shown, shrimp prices at the beginning of the COVID-19 pandemic experienced a free fall when some of Indonesia's main export destinations such as China, Japan, the US, and some European countries decided to close their seafood market borders.
Some experts state that shrimp prices will slightly rise in early 2023. Shrimp supplies in consumer countries have decreased, causing purchase to take place. However, buyers will be more selective in the products they choose, based on quality and price. This needs to be taken into consideration by shrimp producing countries.
Prices are predicted to be tough until the middle of the year, demanding farmers to strive in improving cultivation efficiency. All parties will wait and see in these conditions.
Welcoming 2023 with optimism 
Demand will re-emerge 
As post-pandemic markets begin to recover, shrimp demand will recover. Demand trends towards sustainably farmed shrimp will increase, creating an opportunity for the shrimp industry.
In 2023, stay optimistic that shrimp demand will re-emerge. Many companies have made room for new shrimp. This will hopefully increase shrimp prices and strengthen the demand.
In the beginning of the year, shrimp prices might crawl up slowly. Farmers are advised to choose the right time to start cultivating to prevent oversupply and price crash.
Keep calm and focus on efficiency 
Shrimp price declines drove panic selling among farmers in fear that their shrimp would not sell. This was a hard lesson as the oversupply in processing and exporter companies caused further decrease in their buying price to farmers. Farmers should keep calm and focus on their cultivation, as the real threat is shrimp disease. Focus on maintaining productivity and improving efficiency instead.
Farmers also need to implement a strategy to harvest shrimp at sizes with a relatively stable price to keep production costs at bay. While larger shrimp may have a higher selling price, the price range is not worth it compared to the production costs. A wiser cultivation strategy needs to be implemented.
Work collectively to increase competitive edge 
As an effort to rely less on monotonous shrimp products, it is important to add value in the shrimp that we produce. Price is impacted by quality. For higher value, shrimp needs to have high quality standards. Some criteria that determine price standards are: 
Shrimp size - importing countries have various demands, thus farmers need to observe the different needs of each country. The larger the shrimp, the higher its price.  
Color - it often reflects the quality and freshness of shrimp
Meat texture - as much as possible, ensure shrimp has a dense texture as it reflects product freshness
Shrimp processing - different variations in shrimp such as headless shrimp, live shrimp, peeled shrimp, and more to add value
Increasing product quality should be a priority, considering the increased competition among shrimp producing countries. Moreover, better product quality can open up new markets and get us noticed by other potential countries.
In conclusion, farmers need to exert their best efforts in increasing cultivation efficiency as we welcome 2023 with new hope and optimism. Market conditions and price fluctuations need to be observed regularly for farmers to take the best step in selling their cultivated shrimp.