One of JALA's goals as an end-to-end shrimp cultivation solution is to make Indonesian shrimp farmers more productive and efficient in running their cultivation. On October 26-27 2022, JALA held workshops (Sarasehan Jagoan Tambak) in Pemalang and Subang, which aimed to educate farmers and introduce the Jagoan Tambak program. This program is a membership in the ShrimpHub by JALA community to equip farmers in being more competent and skillful in shrimp cultivation.
Pemalang Workshop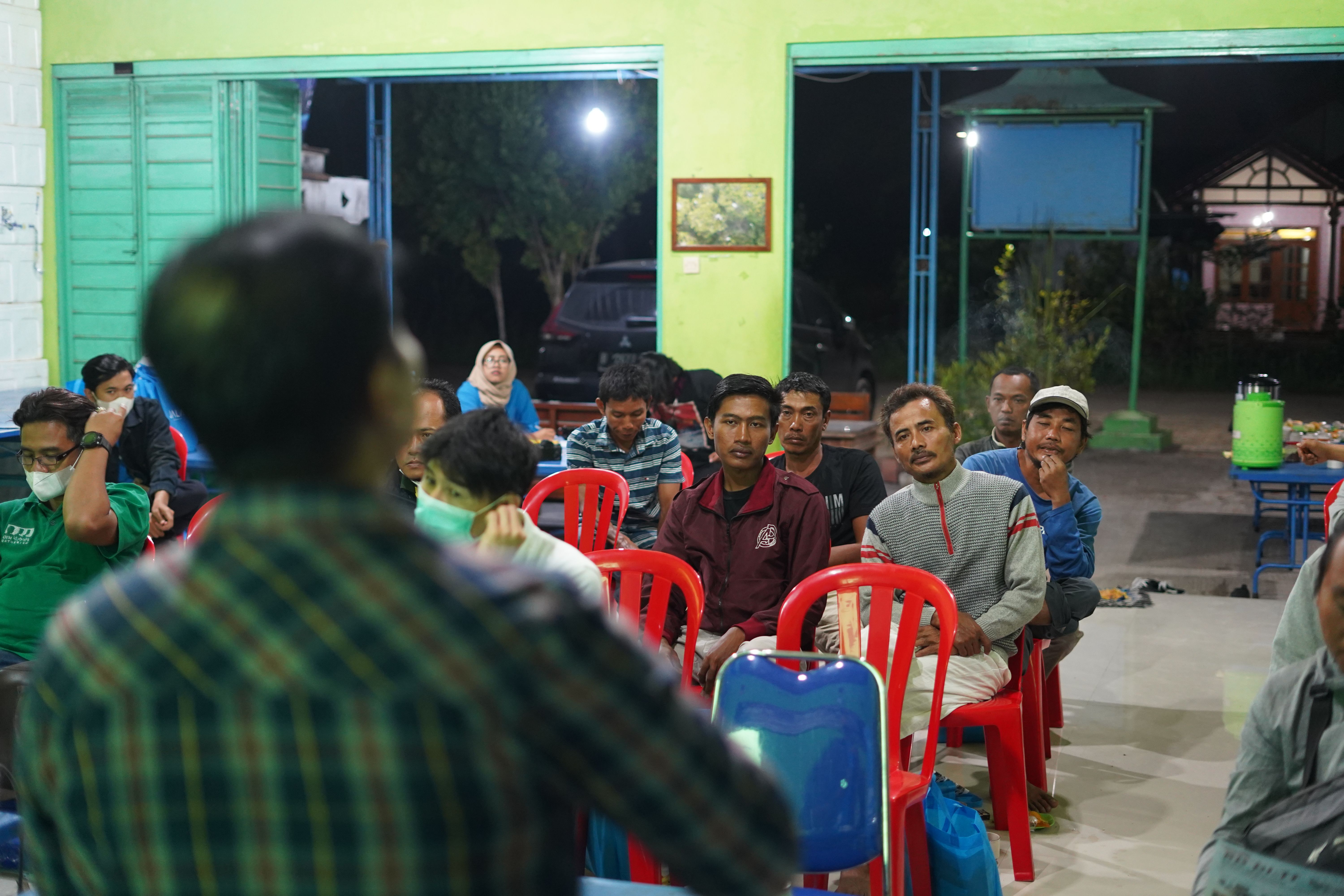 One of the biggest challenges for shrimp farmers these days is the post-pandemic shrimp price decline. Together with Kubota, JALA held a workshop with the theme "How to Be a Successful Sustainable Farmer in the Post-Pandemic Era". This event was attended by Pemalang farmers in Sekretariat Petambak Mojo along with Didik Kusmanto (Inspector Marketing of PT Kubota Indonesia) and Mega Andrew Utama (JALA Business Development Manager) as a speaker.
The shrimp farmers were given a presentation about implementing proper water quality and feed management. Water quality is affected by physical (temperature, light, etc), biological (plankton, live feed, etc), and chemical (DO, pH, etc) factors. These parameters need to be checked regularly, ensuring there are no extreme fluctuations that affect the shrimp. In addition, farmers should conduct regular siphons to clean the bottom of the pond and check the shrimp condition.
Aside from water quality, feed should also be well-managed as it impacts the growth and development of shrimp. Feed management can be divided into two stages, blind feeding and post-blind feeding. Blind feeding is done at DOC 0-30 to limit size variation and form a foundation for growth. Then, post-blind feeding is done with feeding trays to maintain shrimp's appetite.
JALA also shared strategies in facing the shrimp price decline. Farmers are advised to cultivate shrimp with a targeted size in mind to get the best price for their harvest.
Subang Workshop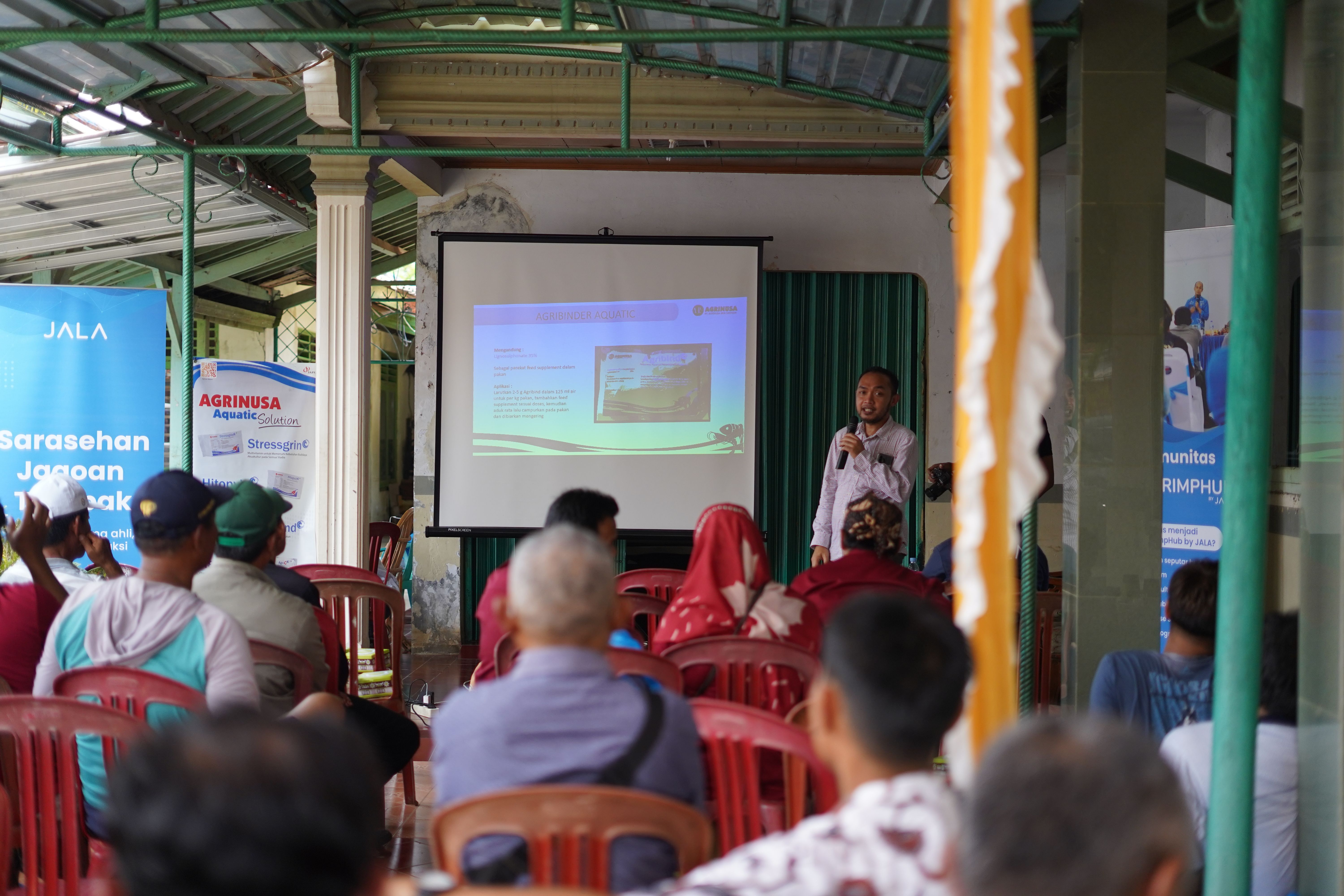 Meanwhile, one of the biggest challenges for Subang farmers is cultivation failures due to poor water quality during the rainy season. Dr. Ir. Agung Setiarto, M. Sc (JALA Technical Head) gave a presentation about proper water treatment in this condition. This workshop was part of JALA's collaboration with Japfa STP and was held in Mr Vicky's house, attended by farmers and stakeholders including Joni Haryadi D (Head of Balai Riset Pemuliaan Ikan, Subang).
Rainwater affects temperature, pH, salinity, and hardness of pond water. When it rains, farmers should remove the water on the surface of their pond, while monitoring DO and pH regularly. Lime can also be applied to maintain the water alkalinity and hardness.Moreover, farmers are advised to keep their windmills running to maintain DO and homogeneity of the water column, and reduce feed based on monitoring the feeding tray.
Afterwards, farmers can readjust the amount of feed once the temperature rises, and add vitamin C along with K, Na, and Mg additives. Probiotics such as Bacillus can also be given to fasten the decomposition of organic matter. Aeration should be maintained to keep the DO levels stabilized.
Along with the presentations, JALA also introduced the JALA App as a solution to help farmers record and monitor their cultivation conditions more conveniently. Attendees were also encouraged to be part of ShrimpHub by JALA's 'Jagoan Tambak' program to have a learning and gathering community with fellow farmers.
The farmers in Pemalang were enthusiastic in learning from the materials presented, especially when it comes to facing the declining shrimp prices. In Subang, the farmers were also eager to join the 'Jagoan Tambak' program to learn from the experiences of other farmers. They expressed their hope that ShrimpHub by JALA would be launched in Subang so that JALA can assist them better in their cultivation.
Be Shrimp Farming Experts with JALA!
The 'Jagoan Tambak' workshop is one of the exclusive benefits for farmers who join the 'Jagoan Tambak' program. Become shrimp farming experts and gain new knowledge and skills for cultivation, and be part of a community where you can learn and grow together! Come to your nearest ShrimpHub by JALA location and show 2 active cycles from your JALA App to join the program. Don't miss it!