Throughout our cultivation journey, we may encounter difficulties in obtaining information about cultivation. Moreover, when we have questions about our cultivation, we may not always be able to promptly get the answers we need.
As a solution to this matter, JALA App for Mobile has feature: Ask Cultivation, a sophisticated technology which makes use of artificial intelligence (AI) to help you gain the information and answers you need about cultivation.
All you need to do is type in your cultivation-related question, and Ask Cultivation will promptly give a detailed answer based on your question.
The Ask Cultivation feature is developed to serve as an efficient, responsive, and personalized virtual assistant to help you throughout your shrimp cultivation journey. It will enrich your experience while using JALA App as you can now ask, interact, and gain new knowledge about shrimp cultivation.
Ask all about the cultivation business
You can use the Ask Cultivation feature to satisfy your curiosity about the shrimp cultivation business. This is especially relevant for those of you who are just starting out in the industry!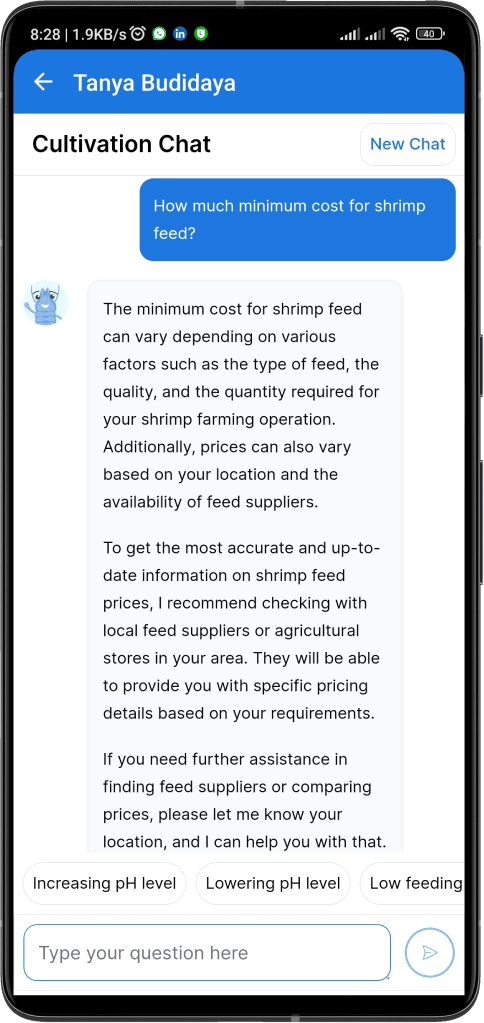 Ask all about technical cultivation
Face any issues or concerns during your cultivation? Ask Cultivation to have more peace of mind and gain some light on cultivation problems that arise.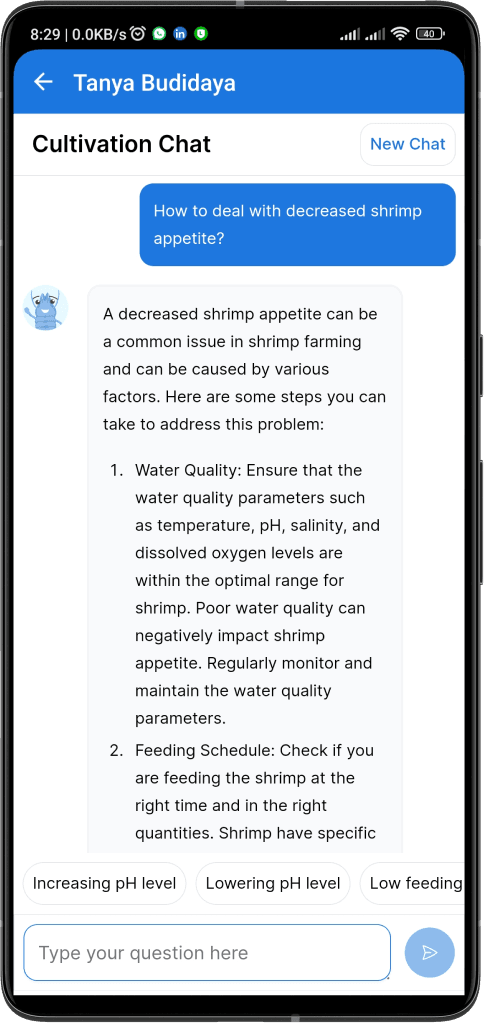 Ask anything!
Have some free time in your hands and just feel like chatting with Jali to answer your silly questions? Jali will happily respond!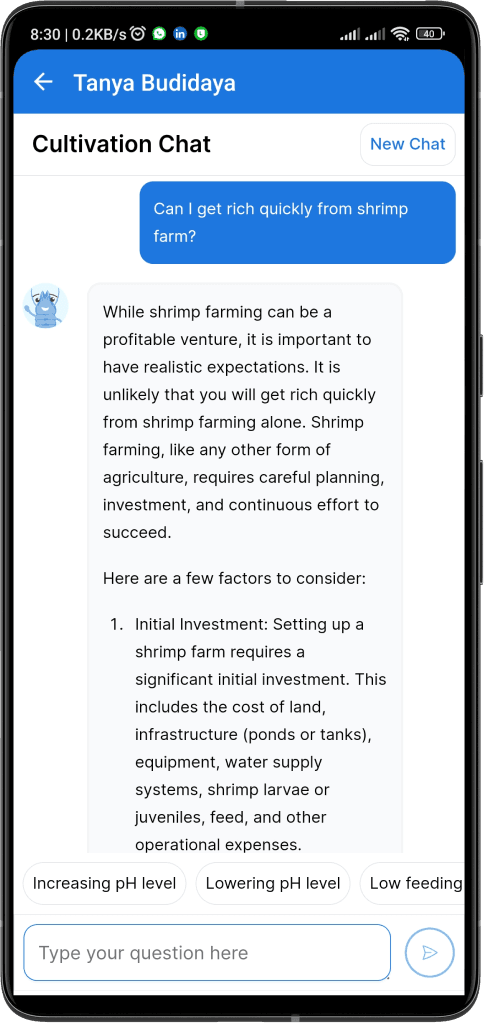 How to use the Ask Cultivation feature
The new Ask Cultivation feature can only be accessed on JALA App for Mobile (available for Android and iOS). To start using this feature, log in and access the home page of JALA App for Mobile, then simply click on the Ask Cultivation banner found on the 'Try other features' part.
Tap on Ask Cultivation feature banner

Start chat
Do keep in mind that the Ask Cultivation feature can only answer general questions. For more technical questions about treatments in the farm, you will not likely get a specific answer. This is because technical treatments in the farm should be done based on prior evaluation of farm conditions from various parameters.
Moreover, Ask Cultivation also cannot answer subjective questions. If you have this kind of question, you can head to the 'Help' menu to be directed to JALA's Aquaculture Specialist.
With this feature, JALA hopes that you will easily gain new knowledge and information through an alternative solution which answers your cultivation concerns.
What are you waiting for? Start asking now! Access the JALA App from your Android or iOS mobile device. Download now from Play Store or App Store.