You may expect to get accurate predictions of cultivation results while using JALA App. Well, it's true, those who have signed up for JALA App will surely get this prediction. However, in terms of accuracy, you need to be fully responsible for the data you input. In other words, you have to input complete data on a regular basis in order for cultivation predictions to be truly accurate. The estimated yield of cultivation can be 85% accurate as the conditions in the ponds.
How Does JALA App Prediction Work?
You will find many cultivation parameters on the JALA App dashboard. These cultivation parameters include feed, feeding tray (anco), sampling, harvest, water quality, treatment, shrimp mortality, and disease. JALA App will analyze the parameter data that the farmers record on the application. The prediction of cultivation results will be more accurate if all of these parameters are filled in completely and precisely.
This feature will help you in analyzing the pond's condition. You can use this analysis to evaluate the cultivation treatment that has been done so far. Furthermore, the analysis will also help you in making decisions for the next cycle.
JALA App Features
JALA App is a ready-to-use tool that will assist you in managing cultivation. JALA App features include farm record keeping, farm stock, cultivation report, cultivation analysis, as well as financial management and report. These features are conveniently accessible through your devices, anytime and anywhere.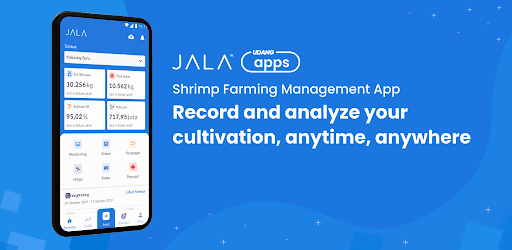 So, make sure to record the data regularly. The more regularly the data is recorded, the more accurate the cultivation prediction. To get JALA App' best performance, make sure to update the application to the latest version. You can update it through Google Play Store or App Store.