JALA collaborated with Forum Informasi Budidaya Udang to have the second SHRIMPS TALK webinar last Thursday, 16 November 2022 with the theme "A Closer Look at Shrimp Cultivation".
This webinar had 287 attendees and most of them were shrimp farmers. The guest speakers for this webinar was Sidrotun Naim, Ph. D, M.P.A. and Dr. Romi Novriadi, S. Pd. Kim., M.Sc. SHRIMPS TALK was opened by a welcoming speech by Bang Jack (Founder of Forum Informasi Budidaya) and Liris Maduningtyas (CEO of JALA). During her speech, Liris shared about current shrimp industry conditions, shrimp price trends, and JALA's solutions to help farmers build a community with shrimp experts and increase farm productivity.
In the first session, Naim shared about Disease Prevention and Control in Shrimp Cultivation. Naim is a shrimp expert also known as The Doctor of Shrimp. She shared that disease is one of the biggest challenges for shrimp cultivation, especially AHPND, WSSV, and IMNV. Together with Nusantics, Naim has developed ShrimProtect, a device to check for shrimp disease through quantitative PCR.
Naim also shared tips on early detection of shrimp disease and reminded about the importance of testing so that the disease could be identified properly. However, she emphasized that the most important step is prevention. That's why farmers should understand disease mitigation through maintaining water quality and understanding the right type of shrimp feed to keep their shrimp healthy.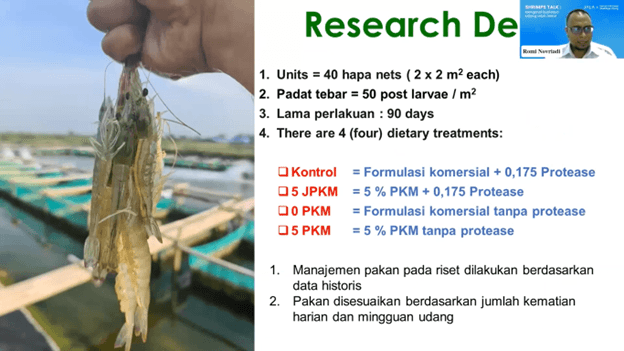 In the following session, Dr. Romi Novriadi talked about the Development of an Economical Feed for Vannamei Shrimp. Prices of raw materials are rising globally, affecting shrimp feed prices. Thus, it is necessary to find local raw materials to serve as an economical and sustainable alternative. In developing feed, the most important factors to consider are nutritional profile, energy, and digestibility. Not only that, the use of additives or supplements is also advised to improve shrimp immunity against diseases.
Dr. Romi also shared his research where he developed feed which uses DDGS corn as a substitute for soybean meal. DDGS corn is more beneficial as it does not contain anti-nutrients that hinder shrimp development as in soybean meal.
Both materials were enthusiastically received by the shrimp farmers. They also expressed their concerns about shrimp disease and finding ways to develop their own feed during the Q&A session.
Are you interested in the world of shrimp cultivation and eager to learn the latest insights to increase your farm productivity? Make sure to follow JALA's Instagram @jalatech.official so you won't miss updates on upcoming SHRIMPS TALK and other events. See you on the next SHRIMPS TALK!