JALA launched ShrimpHub Jembrana in Jembrana, Bali, on August 15, 2022. ShrimpHub is a learning and gathering community space for anyone involved in the shrimp industry. ShrimpHub Jembrana is the third community space after ShrimpHub Banyuwangi and Purworejo, which were launched in February and March 2022 respectively.
As a country with a strong maritime sector, Indonesia has a huge potential in the shrimp industry. Shrimp is a promising commodity due to its high economic and nutritional value. With the high demand for shrimp, many Indonesians become shrimp farmers. However, many of these farmers still lack the knowledge, resources, technology, and network to optimize their shrimp production. Acknowledging these issues, JALA launched ShrimpHub as a center for shrimp farmers to grow through learning and sharing experiences regarding current issues in shrimp farming.
ShrimpHub JALA Jembrana Talk Show
Jembrana is one of the regencies in Western Bali. The regency boasts a high potential for vannamei shrimp farming, with many locals involved in the industry. Thus, it is a suitable place for JALA to establish its third ShrimpHub there. On August 15, 2022, JALA held a talk show to commemorate the launching of ShrimpHub. In this talk show, one of JALA's team members, Christine Kombong, introduced ShrimpHub and the importance of community and communication in shrimp farming.
The talk show also welcomed Suyadi from the local fishery department and Suhoiri from Fortel SCI, a forum for shrimp farming. They discussed sustainable farming tips and the shrimp farming potential in Jembrana. This talk show aimed to increase awareness among shrimp farmers in Jembrana on the importance of community and provide a proper space for insightful discussions.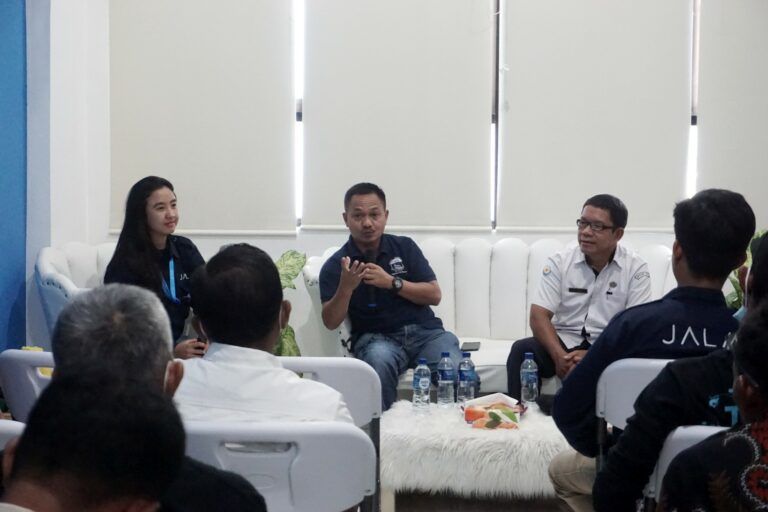 ShrimpHub Activities and Facilities
Staying true to its vision to be a community for shrimp farmers to grow, ShrimpHub hosts regular gatherings for farmers to learn from one another as well as expert practitioners in the industry. ShrimpHub comprises a VIP room, a meeting room, and a laboratory to diagnose shrimp diseases. Everyone involved in the industry, from shrimp farmers to stakeholders and more, is welcomed at ShrimpHub Jembrana.
Are you from the shrimp industry in Jembrana and would like to expand your knowledge and network? Visit ShrimpHub Jembrana at Ruko Mashab No.02, Jl. Danau Kalimutu, Kel. Lelateng, Kec. Negara, Kab. Jembrana or contact us at 0813-2551-4194. We await you to be a part of our growing community!