Every business longs to earn profit. The shrimp cultivation business offers significant profit, but at the same time, the operational costs and risks are also high.
Previously, you may have set expenses for primary, secondary, tertiary, and other cultivation needs. The budget should serve as your guide for the minimum amount of money you need to have in hand. Emergency funds and insurance should also be taken into consideration.
Aside from mastering cultivation techniques and having a supporting network with similar understanding, financial management is also an important aspect when operating a shrimp cultivation business. One of the ways to achieve this is through proper financial records.
Keeping financial records is an important routine for shrimp cultivation. Having clear records helps you in accounting, monitoring cash flow, evaluating cultivation cycles, and planning for the next ones.
Reminder: Record any kind of transaction!
Every transaction, regardless of its type and amount, is important. Income and expenses in shrimp farms should be recorded as a part of business operations. No expense is too small.
Your records are your control
Use your budget plan as an initial guide and control your expenses along the way to identify which ones are needs versus incidentals. Controls are also implemented by referring to the biggest expense and income, profit/loss conditions, and product categories with the highest cost. Compare it by monitoring recent balance, debts, and receivables to keep your farm finances healthy.
Farm Financial Management in JALA App
Recording and monitoring shrimp farm finances has just got more convenient with JALA App's Finance feature. Here are some reasons you should use this feature:
Financial accounts especially designed for the shrimp farm business
Record any type of transaction (income and expense) based on category
Classify expenses into 3 categories: operational (anything related to cultivation operation expenses), inventory (anything related to cultivation supplies such as feed stock, chemicals, probiotics, and many more), and fries (anything related to stock purchase)
Classify income into 3 categories: harvest, capital, and inventory sales
Control debts and receivables to ensure settlements are made on time
Make the wisest decision based on the budget plan
Records of financial transactions for farm needs are made with accounting standards.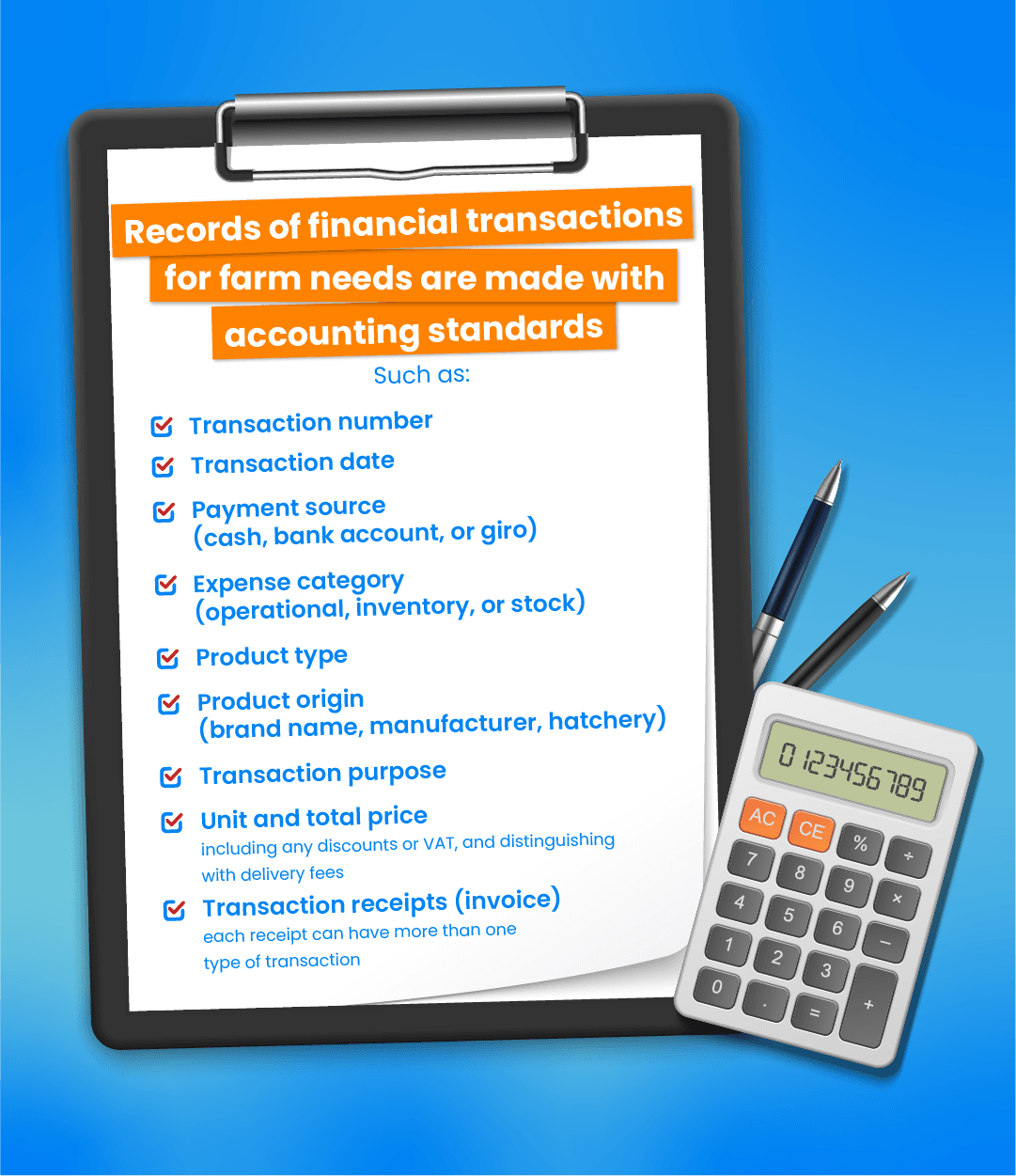 Record any transaction, even for products not on the list!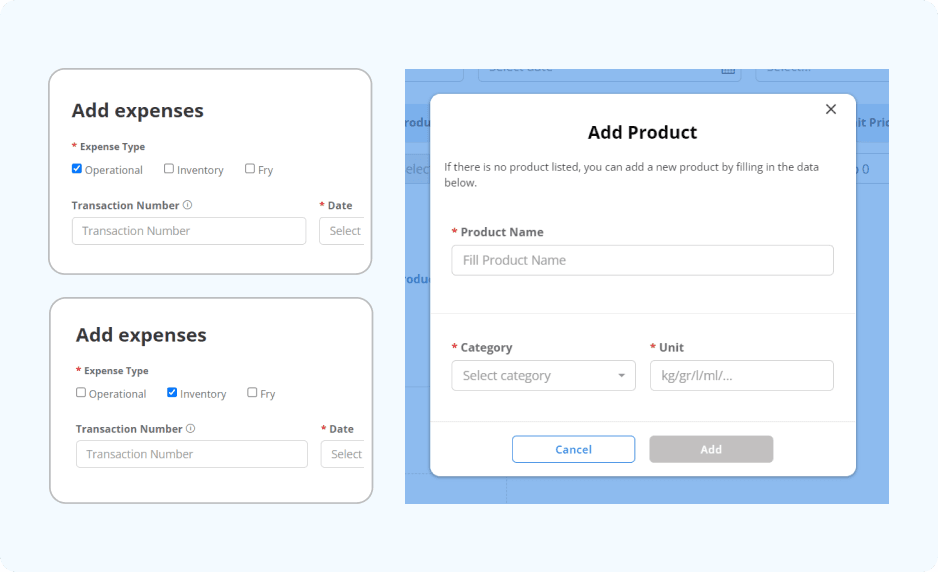 With JALA App, you can record expenses of any kind (operational, inventory, or stock). Don't worry if the brand or product name is not listed on JALA, as you can still manually input it to keep your records as thorough as possible!
Monitor through the summary and financial report menus
Monitor the latest conditions through your farm finances summary, including today's balance, profit/loss condition, debt/receivable settlement date, and income/expense ratio.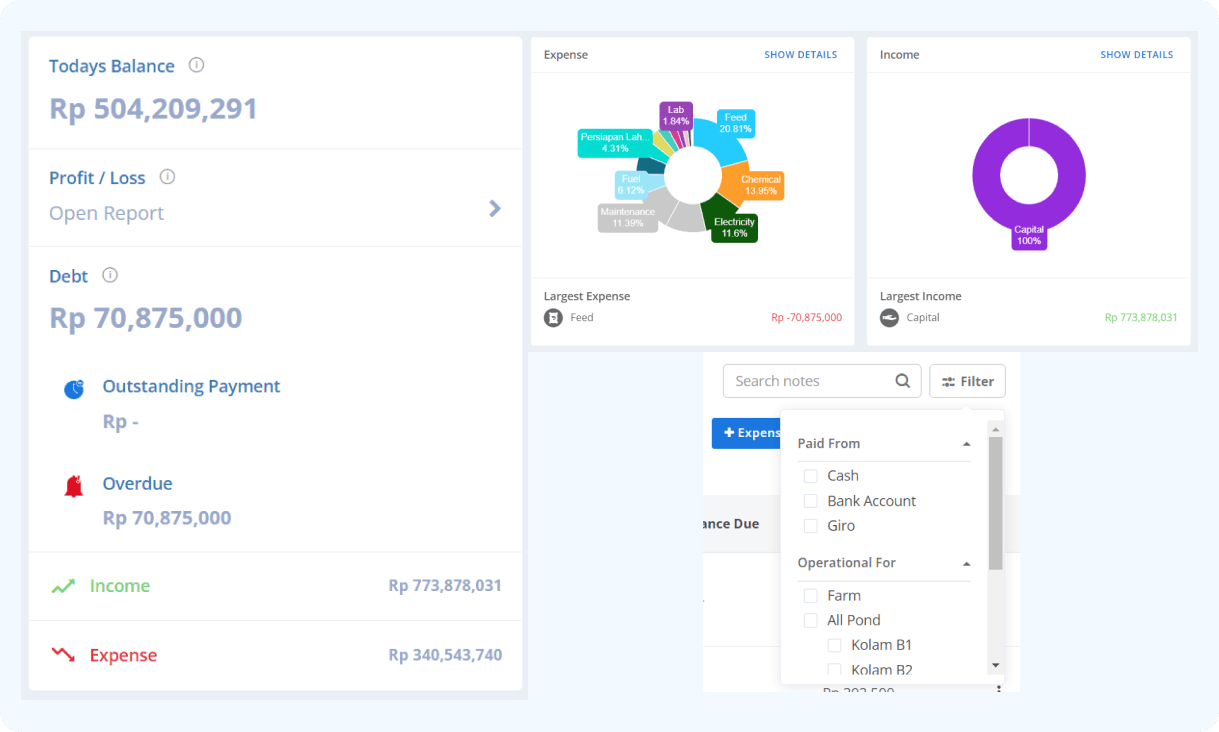 You can also find more detail in the expense and income menu. When monitoring transactions, use the transaction filter, which is particularly useful if you have multiple ponds with different expenses. The filter can also be used to distinguish between the source of fund, be it cash, bank account, or giro.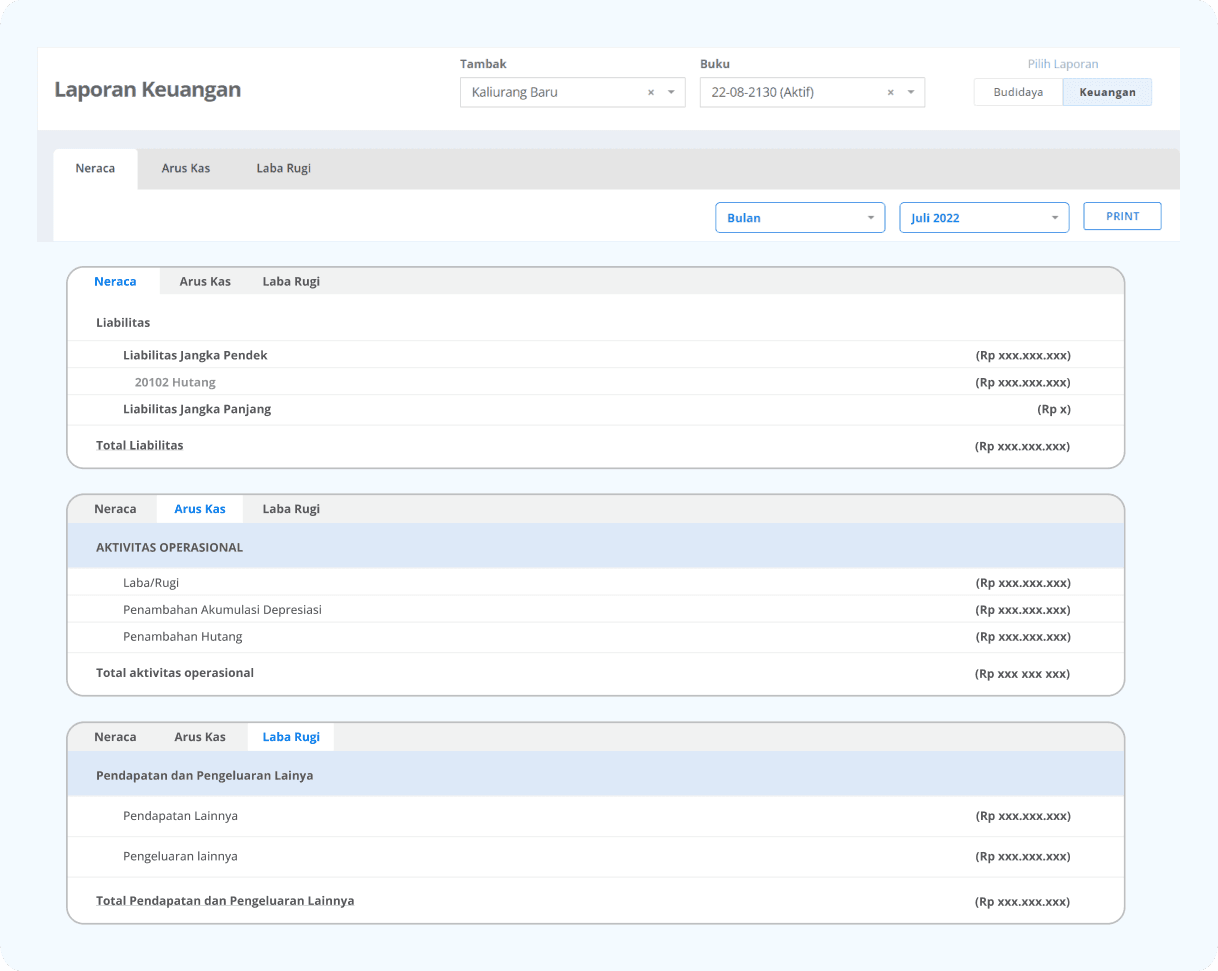 Monitor and evaluate your cultivation finances regularly from financial reports that you can see during and after your cultivation cycle through the web or download it conveniently. Financial reports include balance, cash flow, and profit/loss reports. Select the month and year to filter finances based on specific time periods.
JALA App Finance Feature: Your Shrimp Farm Business Assistant
As the main tool in recording your farm's finances, all the data you record on JALA App is downloadable. You can download the transactions in excel format in case you need it for specific purposes.
If you ever lose your receipt or invoice photo or document, you can redownload the photo from JALA App.
The importance of transparent financial management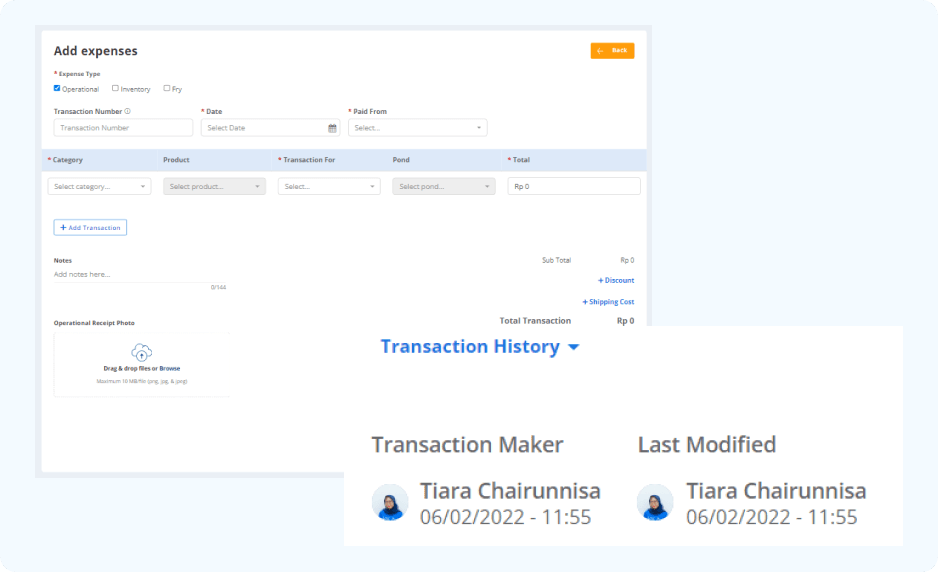 Every record in JALA App is transparent, allowing you, as a farm owner, to see any changes in financial data. Through the history feature, you can see who creates and changes each financial input and identify any discrepancies.
Integrated data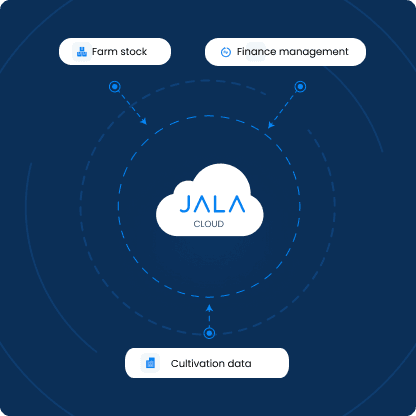 JALA App's Finance Feature is integrated with the stock and cultivation records feature. When there is any new purchase record for cultivation needs, the stock will be updated. Similarly, whenever you record the use of cultivation needs such as feed, chemicals, or probiotics, its financial value will be calculated as well.
Standardized for accounting To remind you, every record and report from JALA App is standardized for accounting purposes! Be sure to upgrade now to Pro Cycle to enjoy this feature! Upgrade to Pro!!