Feed is one of the many crucial elements that contribute to the success of shrimp farming. In addition to natural feed, such as plankton, farmers also administer artificial feed to boost shrimp growth. High-quality feed will undoubtedly support optimal shrimp growth. However, without proper feeding management, its impact on shrimp will not be felt significantly.
Proper feeding management, starting from setting the frequency and dosage of feeding to analyzing the feed administered, can also prevent increases in feed costs. This is due to the fact that feed accounts for 50-70% of all production expenses in each cycle. Given the high cost, every farmer should be concerned about feed efficiency.
Feed efficiency parameter
The major key of feed efficiency is feed conversion ratio (FCR), which shows how efficiently the feed is converted into shrimp weight. Finding the FCR value can be done by dividing the total amount of feed by biomass. The lower the FCR, the more efficient the feeding management, with the ideal range of FCR at 1.1-1.2.
Since feed is also related to the pond environment and water quality, the ideal FCR value aligns with less organic waste in the pond. This organic waste puts pond water at risk by declining its quality, causing it less conducive for shrimp to grow and thus making shrimp more susceptible to stress and disease.
The ideal FCR will influence optimal cultivation performance and profits. If FCR can get to 1.1-1.2, feed costs should also decrease. This way, farmers will also reap greater profits.
Make adjustments to feed management
Regular feed management adjustments are very necessary to keep FCR within the ideal range and optimize feed efficiency. Farmers are advised to consider the following things:
Shrimp's age and needs
Feeding must be adjusted based on the shrimp's age and needs. For example, when the shrimp are less than 15 days old, the feed should be given in powder to make it easier for them to digest. Meanwhile, when the shrimp reach the Day of Culture (DoC) 16-45, the feed given can already be in crumble form. Therefore, there are different types of feed, and they are distinguished by their size and nutrient content.
Feeding method
Feeding can be done manually, whether by stocking or using an auto feeder. When choosing a feeding method, the amount of feed about the given and the time to give it should be considered. Make sure that the method chosen ensures that the feed is evenly distributed in the pond. It is because the accumulation of feed at one time can affect the water quality.
Feeding frequency
Feeding frequency is also no less important than shrimp's age and needs. In this case, the interval between feeding sessions must be considered to give the shrimp enough time to digest the food, which is 48-90 minutes. Then, it takes the food 4-6 hours to pass through their digestive system and is finally excreted as feces.
The feeding frequency for shrimp aged less than 15 days is 3 times a day, while for those aged 16-30 days is 4 times a day as it adapts to the shrimp's ability to eat. When the shrimp are older, feeding can be done 5 times a day, at approximately 08.00 AM, 12.00 PM, 04.00 PM, 08.00 PM, and 00.00 AM. This is based on the consideration that the dissolved oxygen conditions in the pond are still good (Tambunan et al., 2022).
Use JALA App to adjust feed management
It is important to monitor feed management closely, and one way to do this is by making adjustments from time to time. Without proper feed management, production costs may spike, the potential profits of farmers are reduced, shrimp get underfed or overfed, and many other problems.
To support the success of your feed management, there are two crucial things you need to do: record and analyze the feeding process. Both can be done easily on JALA App.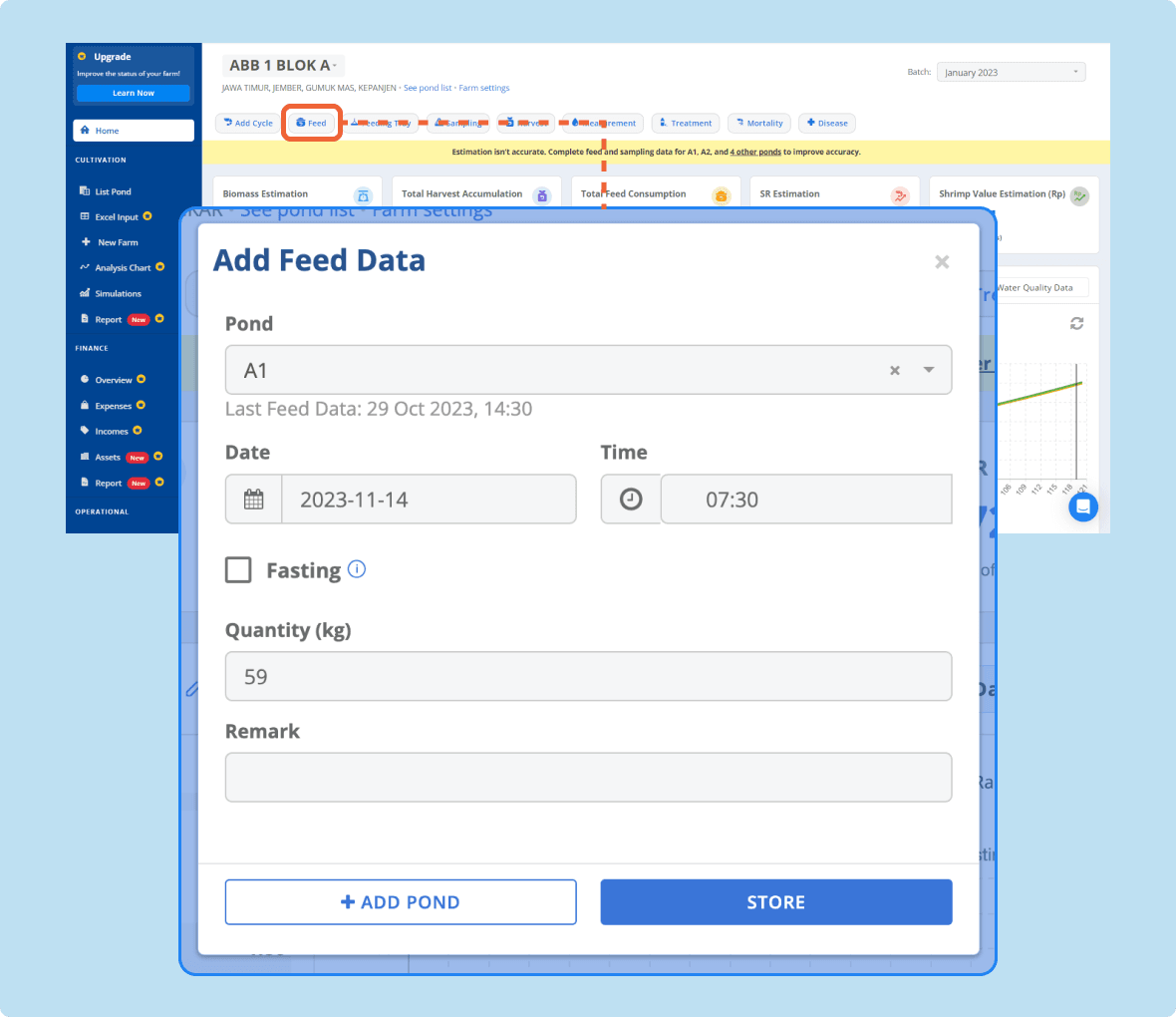 You can record daily feed and analyze the progress in the easily-understood visual charts. These actual data-driven charts will help you monitor feed efficiency from time to time and you can make it as an evaluation.

Furthermore, you can also see feed projections before cultivation starts in the Simulation Feature. The feed projection information that you will get includes a feed consumption chart at certain DoCs, feed costs, FCR values, and a daily feeding table.
Start using JALA App at app.jala.tech or download the mobile version via Google Play Store and App Store. It's free!
Referensi
Afrizal, W., dkk. (2013). Feed Efficiency and Growth of Vannamei Shrimp (Litopenaeus Vaname) with Commercial Feeding. International Journal of Progressive Sciences and Technologies, 38(1), 157-161. Otak-Atik Program Pakan | JALA Pakan Menyesuaikan Umur dan Kebutuhan Udang | JALA Tambunan, J.E., dkk. (2022). Udang Vaname dari Hulu ke Hilir. Universitas Brawijaya Press. Malang.