Jala product update: Boost your dissolved oxygen with Dojeto
As Michael Matthews said "Aquaculture is a risky business. You don't go into aquaculture for the money. You do it because you love it."
For the same love of aquaculture, Jala always tries to keep innovating to help you lower the risk of it.
Here are some updates of Jala products in February,
Increase your DO, saving your electricity bills
Oxygen is the one important requirements for the organism living inside of your farm. We introduce our newest product "Dojeto and Dojeto Max" to help you maintain the dissolved oxygen inside your pond at a lower cost and more effective.
Please click the button below to contact the Jala team and pre-order Dojeto.
Estimate your potential revenue and profit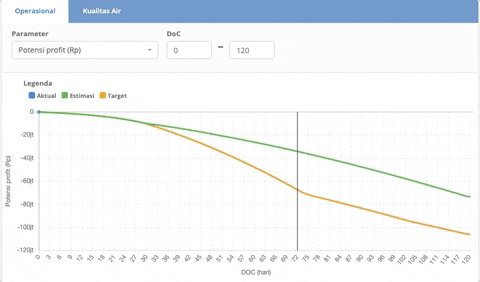 Shrimp cultivation is not only about having a good harvest result. But also how to make your farm sustainable. It takes not only the water quality or cultivation aspect but also you need to be aware of your cost and finances.
That's why we introduce the new charts to help you monitor not only the pond condition but also the cost, revenue potential, production cost, even your pond's cycle profit. By using this chart, you can decide and estimate the best time to harvest your pond based on the operation status. 
Revenue estimation: It answers your question about when is the right time to harvest based on the revenue potential that you can gain when you harvest the pond's biomass on certain days of culture.
Feed cost: It helps you know the existing and potential feed cost for each pond.
Production cost (COGS): It helps you know the cost of your shrimp per kg. As the reference for you to finding the right price of your shrimp when selling it.
Profit estimation: It helps you know the profit margin that you will get for each pond.
Now you can record the mortality data of your shrimp in the Jala App. Record the dead shrimp mass and shrimp count or sizes. Also, you can monitor daily mortality and accumulation. The mortality data also affect the survival rate estimation. 
By recording the mortality data regularly, you can get a better survival rate prediction and estimation.
Product category settings and financial updates
Add and setting your own product categories. Show and hide the categories inside your financial reports. Also, there are some design and experience updates to help you manage the financial easy. Check the financial feature to see the updates.
We excited to release the Jala for iOS mobile app. You can record cultivation data and monitor
Mr. Sakti Wahyu Trenggono, Minister of Ministry of Maritime Affairs and Fisheries of Indonesia using the Jala
Jala's smart farming program in Dipasena, Lampung Smart farming (or Tambak Pintar in Bahasa Indonesia), is an
Better shrimp farm management start here
Better shrimp farm management start here