A lot of you must have known that JALA is a startup company engaged in aquaculture, specifically shrimp farming. However, have you ever wondered who are the people behind JALA? What is the work environment like at JALA? Have a seat and learn more about them in this article!
Warga JALA
Did you know? Employees at JALA have a unique name, Warga JALA. Employees at JALA are like neighbors that live next door to one another despite coming from diverse backgrounds. Therefore , Warga JALA must be able to communicate and collaborate well in order to generate a positive synergy. This synergy has been established in order to achieve a single unifying goal: to help advance the shrimp industry in Indonesia and around the world.
So far, men have dominated the aquaculture industry. However, this is not the case at JALA since we do not bar the door to female talents. Our CEO, Liris Maduningtyas, always emphasizes this. Liris is committed to providing equal job opportunities for men and women. As a result, some of our current lead management are female. Female employees of JALA now account for one-third of the total 97 Warga JALA.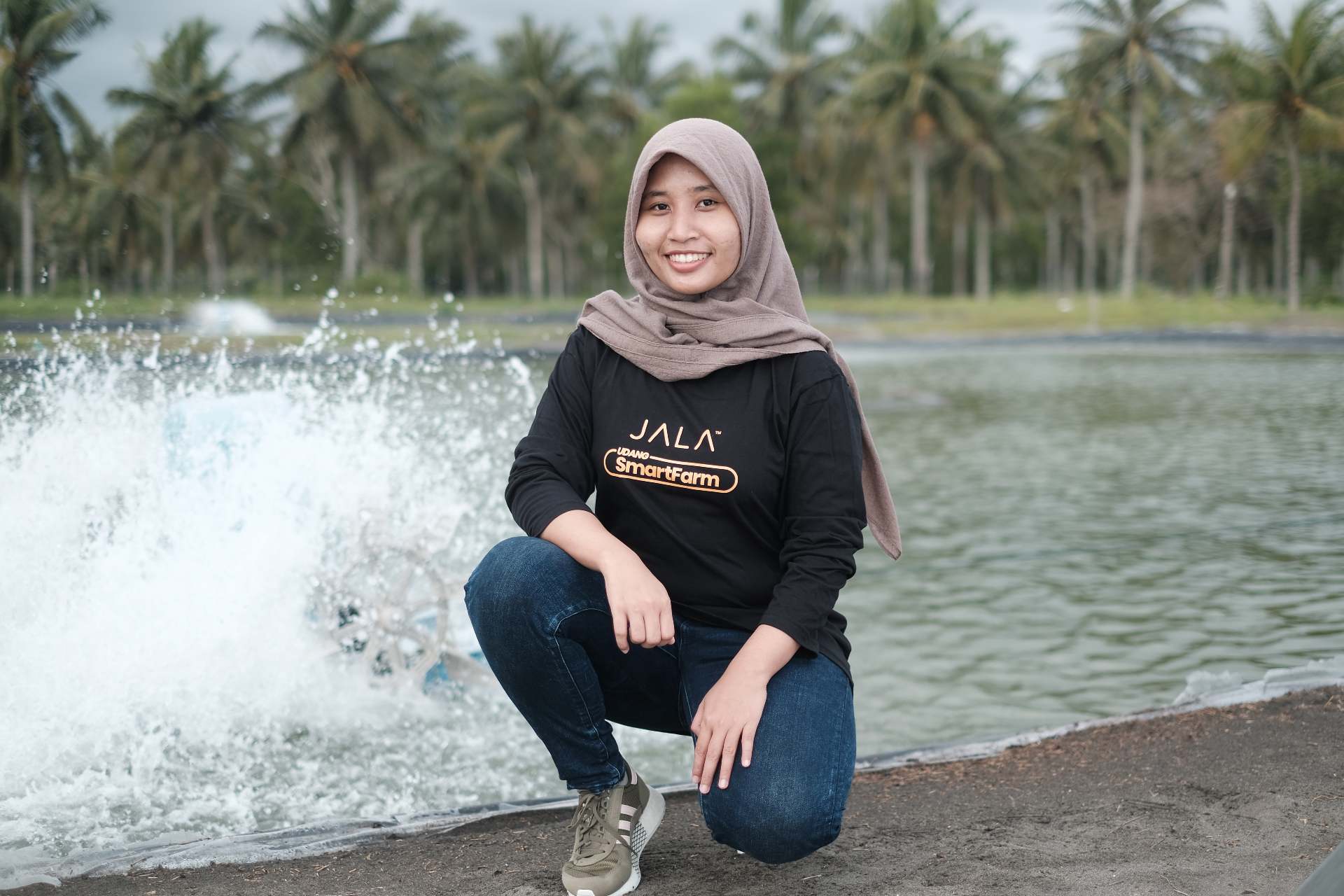 Liris Maduningtyas, CEO of JALA
JALA is also open to talents from diverse backgrounds. We value diversity and will not accept any sort of discrimination or intimidation against fellow Warga JALA. We continue to grow in this spirit by maintaining a collaborative, mutually supportive, and tolerant atmosphere.
Hybrid working and flexible working hours
The hybrid work system is one of the fundamental shifts brought about by the pandemic in the professional world. According to Qualtrics, hybrid working is a work model in which employees work partly from the office and from home. In other words, this work arrangement does not require employees to come to the office or work from the office all the time.
JALA has implemented a hybrid working system since the pandemic emerged in March 2020. Warga JALA have the option of working from home, elsewhere, or taking turns coming to the office. When it comes to being productive at work, we believe that everyone has distinct preferences. So, Warga JALA have the freedom to choose from where they want to work.
JALA implements a flexible working hour scheme in addition to hybrid working. The definition of flexible in this context is the option to start working and finish at any time of day. As a result, we are not required to begin working at the same time. One thing to keep in mind is that Warga JALA are still required to work 40 hours a week.
Working environment at JALA
JALA encourages a collaborative and respectful work environment. We are divided into several divisions and business units that handle various tasks. Each division collaborates and grows to deliver the finest solution for the shrimp industry. Furthermore, We are attempting to develop it in collaboration with practitioners and cultivation experts.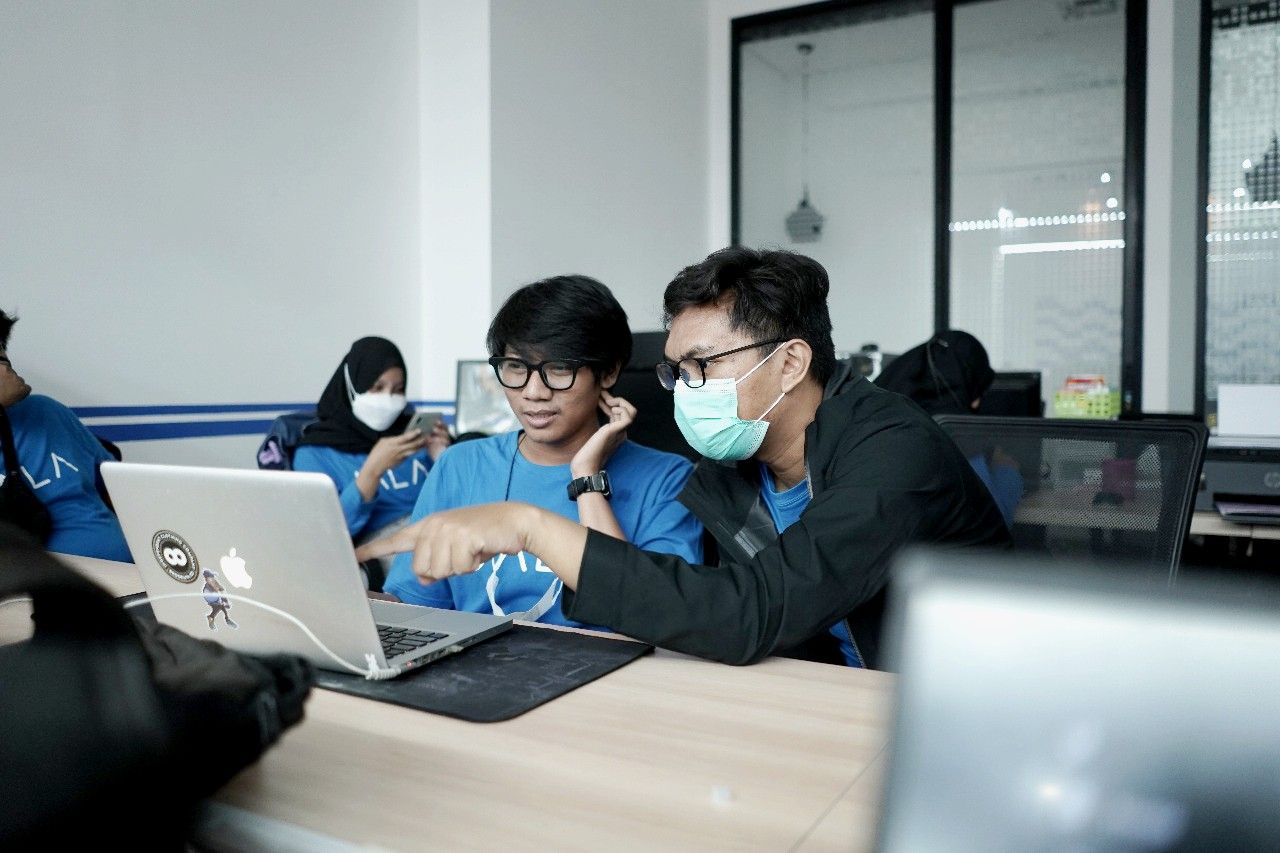 Here at JALA, you can find a collaborative and respectful working environment.
JALA also has a work environment that values diversity. Warga JALA come from a diverse range of backgrounds. As a result, at JALA, the spirit of mutual respect is consistently emphasized and implemented.
Facilities and activities at JALA
Here at JALA, we have access to a variety of essential facilities to help us be more productive at work. These facilities range from work equipment such as laptops to insurance services. Each of us is registered with the Healthcare and Social Security insurance program (BPJS Kesehatan) and Workers Social Security program (BPJS Ketenagakerjaan). Additional private insurance and Grab gift vouchers are also given to permanent employees. JALA also enables employees who wish to upgrade their skills through upgrading classes or purchasing books relating to their roles in the company. Not to mention, we also have the opportunity to get JALA merchandise.
Aside from supporting facilities, JALA also organizes a variety of events in an effort to strengthen the bond among Warga JALA. Educational events (internal classes, sharing sessions with Warga JALA, and Corporate Regulations (PP)) as well as amusement events were held (JALA Day and Indonesian Independence Day celebration). In addition, events regularly organized by JALA include annual work meetings, town hall meetings, and Syawalan. JALA also holds joint sports every week in an attempt to keep employees healthy.
As you are aware, JALA's headquarter is located in Yogyakarta, a culturally rich city. Therefore, JALA also supports the government's cultural preservation program, which is Kamis (Thursday) Pahing. Kamis Pahing is a tradition commemorating the founding of the Yogyakarta Palace, which takes place on Kamis Pahing. We will dress in traditional attire on that day. This is one of the regular activities implemented at JALA.
Interested in working at JALA?
Do you want to work in the aquaculture industry specifically shrimp farming? If so, you are welcome to join and become a part of Warga JALA. Find positions that match your skills at jala.tech/careers!