JALA strives to help shrimp farmers in cultivating more conveniently and efficiently. One of the solutions we offer is JALA App Mobile. Through careful observation and attention to your experiences with the app, we have developed a new version of JALA App Mobile to provide a better experience in using the app. With this development, previous problems faced while using the app have been addressed.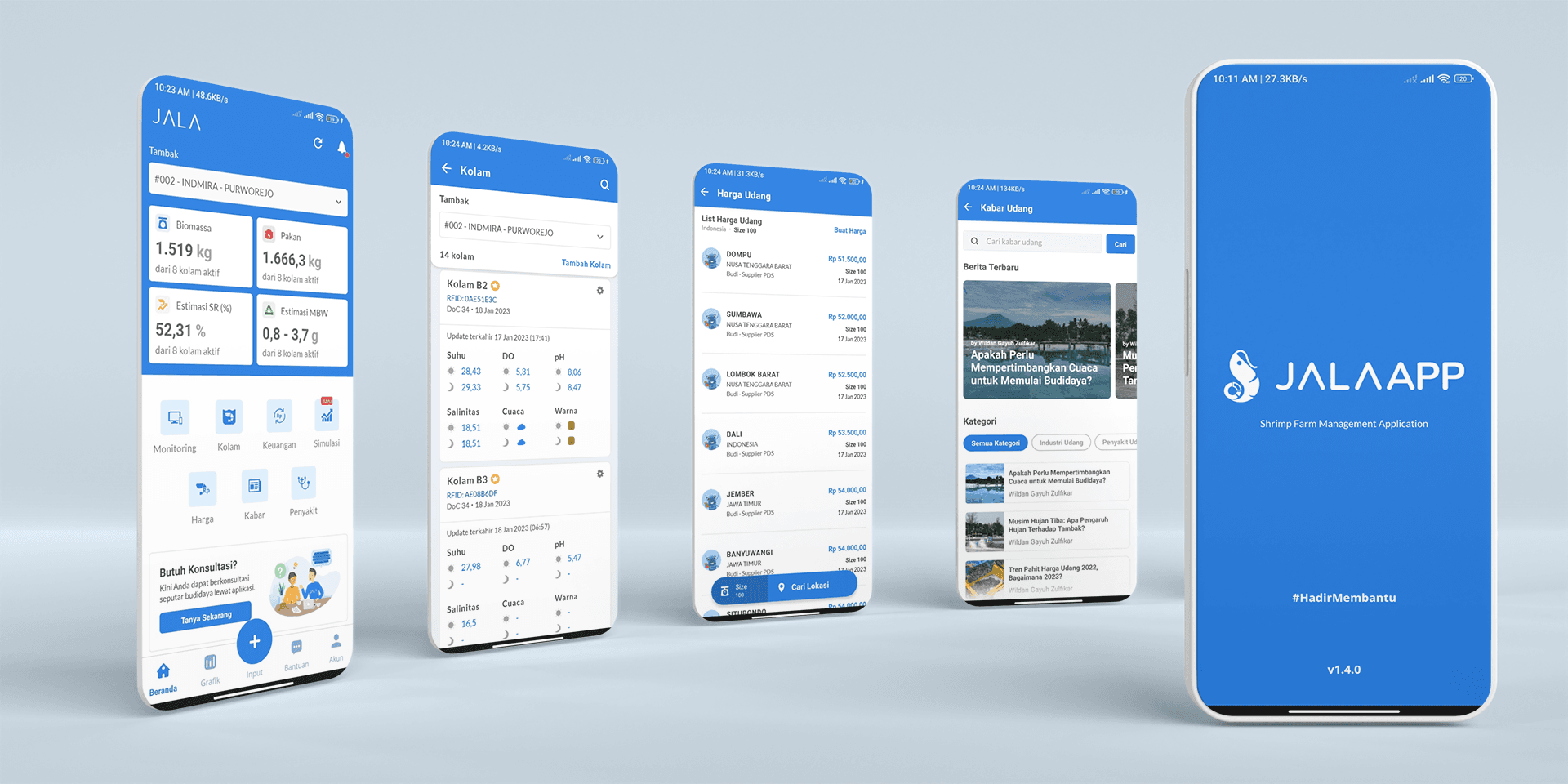 Some updates in the newest version of JALA App Mobile are:
Faster and more stable access
Better application reliability
Fixes on double input and upload failure issues
The newest JALA App Mobile also has some additional functions, such as:
RFID (Radio Frequency Identification) Synchronization. RFID refers to JALA Baruno's identification number which helps recognize the JALA Baruno device integrated with JALA App. RFID can now be input and synced through JALA App for Mobile. Learn more about JALA Baruno here
Accommodates existing record feature with additional feature to input death data
Product information input when recording Feed data.
With JALA App Mobile, farmers can be in touch with their farm anytime and anywhere. Here are some of the features at JALA App Mobile which are useful for farmers:
Record 40+ parameters Keep track of various parameters in one app, from water quality parameters such as physical (temperature, pH, DO, etc), chemical (nitrite, nitrate, alkalinity, etc), and biological (bacteria, plankton, organic matter) parameters. You can also record productivity parameters such as sampling results, daily feed, and harvest.
Record in offline mode Does your farm location have poor signal? No worries! You can still record data in offline mode. Data will need to be synced once the signal has recovered.
Cultivation consultation JALA App Mobile offers a messaging feature to consult with our experts. Use this feature to discuss technical cultivation issues or issues when using the app. If you encounter any issues while cultivating, consult directly with experts through the app.
Simulation feature Project your cultivation before you start it. Determine cultivation targets such as duration, final size, survival rate (SR), and partial harvest. You will also get estimates for total biomass, feed needs, proper harvesting time, and capital required as well as profits.
Harga Udang and Kabar Udang Get the most recent shrimp prices in each region by checking Harga Udang. Prices are updated by offtakers whose contact information is provided for further negotiation. Harvest at the right time to improve profitability! You can also find the latest tips and updates from the world of shrimp cultivation at Kabar Udang.
Integrated data -insert ilustrasi data terintegrasi- All data and information that has been input or processed is integrated between JALA App for web and mobile app (Android and iOS).
With these updates, we hope you can cultivate more smoothly and effectively! If you have not downloaded JALA App Mobile, go ahead to App Store or Google Play Store to download now. If you already have the app, don't forget to update it and start enjoying the new updates!