Introducing Baruno: Reliable Smart Water Quality Device
Introducing Baruno: Reliable Smart Water Quality Device
Shrimp farming is about water cultivation, so water quality monitoring becomes an important thing. Water quality measurement produces a series of data for the shrimp farmer to help them make the right decision for their cultivation. There's a lot of water quality devices existed in the field like pH meter, salinity meter, dissolved oxygen meter, temperature meter with various prices and their respective advantages. Since 2017 Jala Tech is developing water quality measurement product and in this year Jala has improved and upgraded that product to become Baruno.
Baruno is a smart water quality device that is connected to the internet. It measures four water quality parameters from temperature, dissolved oxygen, salinity to pH level at once. The measurement result will be sent to the online database and the farmers can access those data from their gadgets. The name Baruno is taken from Javanese traditional dramatic puppet show (wayang) character who is a water god or the ruler of the sea named Baruna. "We hope Baruno could help the farmers to protect their shrimp ponds and farms." Said Liris Maduningtyas, the CEO of Jala Tech.
Practical and reliable
Baruno lebih handal dibandingkan alat pengukur kualitas air lain karena hadir dalam satu paket pengukuran jika dibandingkan dengan merk lain. Beberapa parameter seperti pH, suhu, dan DO memiliki kompleksitas dalam pengukuran karena ketiga parameter tersebut saling berkorelasi dan mempengaruhi, Baruno telah memperhitungkannya dengan mengkompensasi nilainya secara otomatis sehingga hasil pembacaan lebih akurat.
The practicality value comes from the device simplicity that makes it easy to carry so the farmer could do the measurement up to 30 ponds. And also the farmers don't need to do the manual record of the measurement result on the paper because Baruno could send and upload the measurement result data to Jala online database then the farmer could access those data by their smartphone or laptop/pc at Jala web application or at Jala mobile application.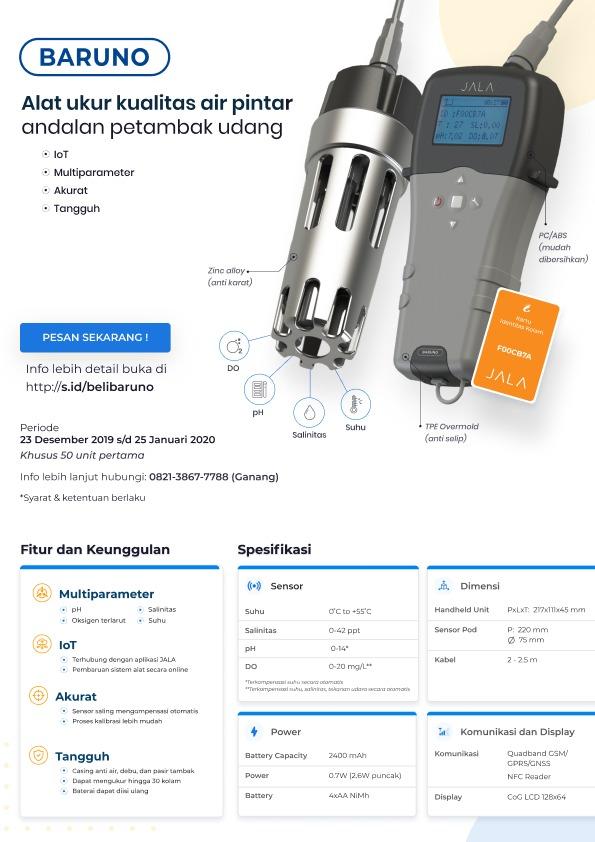 There's a lot of perks for you who order Baruno
For you who buy Baruno, you will get additional premium features from Jala for free called Pro Cycle which provides exclusive features like spreadsheet/excel input, financial management, the cultivation and financial report, and graphic insights.
In addition, to offer reliability and practicality for shrimp farmers, Jala through Baruno smart water quality also giving a huge hope to support the success of the shrimp cultivation."Baruno is expected to be one of the redemptions of Jala for the previous solution produced by Jala which were recognized to be unstable and their reliability in the field is still lacking. Baruno now comes by offering more value that is strong, accurate, affordable, and easy. "Liris Maduningtyas expressed her hope with the launch of Baruno.
Update aplikasi web Jala bulan Juni. Terdiri dari berbagai pembaruan mulai dari optimasi pencatatan budidaya hingga tampilan yang mempermudah anda memantah kondisi budidaya
Memantau kualitas air tambak udang bagian dari rutinitas petambak. Kualitas air yang baik adalah berada pada kisaran ideal dan stabil.
Harga udang cukup fluktuatif, menjadi kebutuhan petambak untuk selalu memperbaruinya. Kini juga hadir prediksi harga udang dan perhitungan nilai udang Anda.