We are thrilled to present a new feature on the JALA App web version. This feature makes the prediction analysis methods for survival rate (SR) now more varied. Previously, SR prediction could only be generated using feed ratio, water quality, and a fixed basis, but today, predictions can also be generated using the data from the Feeding Rate (FR) table.
The FR table is now available to improve the performance of SR prediction analysis. This will enhance the SR analysis factor based on feed input for ponds, which previously only utilized one type of FR.
In its principle, feeding rate is the percentage of daily feeding used to regulate the amount of feed based on the current shrimp population and weight prediction. With the inclusion of the FR table feature, JALA App users will be able to input the FR table reference for each farmer or depending on certain feed brands. Therefore, the predictive accuracy of JALA App will improve.
How to use the FR Table on JALA App?
Select Farm settings on the Homepage of JALA App on your browser.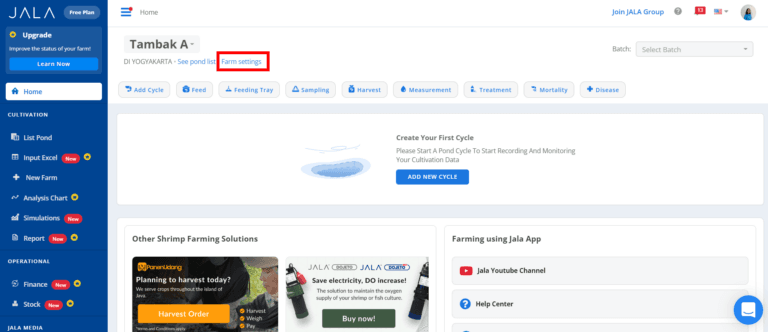 Select the FR Table option in Farm setting. Fill in the data in the FR Table and customize it to your pond's condition. DoC must be filled out for at least 60 days in order to save FR Table data.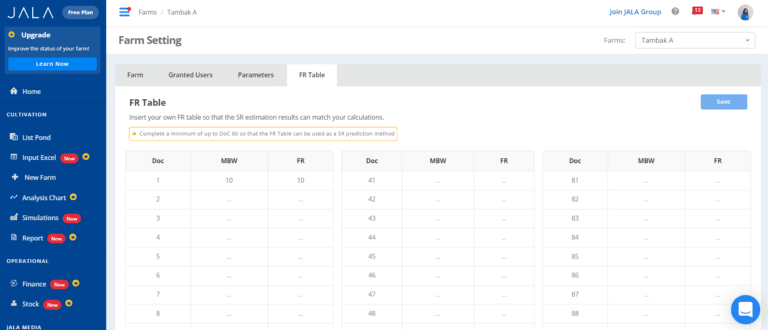 After inputting data into the FR Table, you can process it using the Add Cycle Data menu.
If the DoC has been filled up to 60 days, return to Home and click Start Cycle to show the Add Cycle Data form.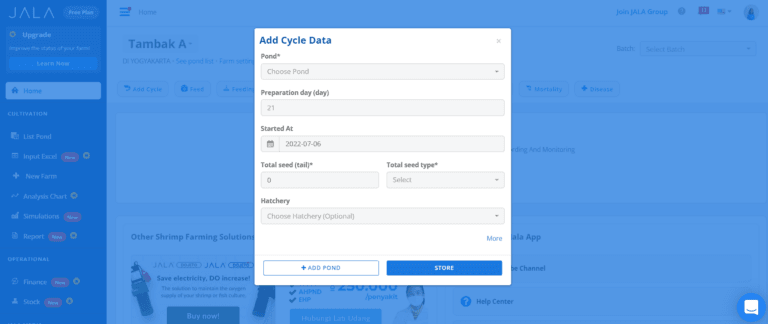 To access the SR prediction method options, click More and then scroll down until you find SR prediction method. Then, select Own FR Table. You can now see the SR prediction based on the FR Table you have filled in.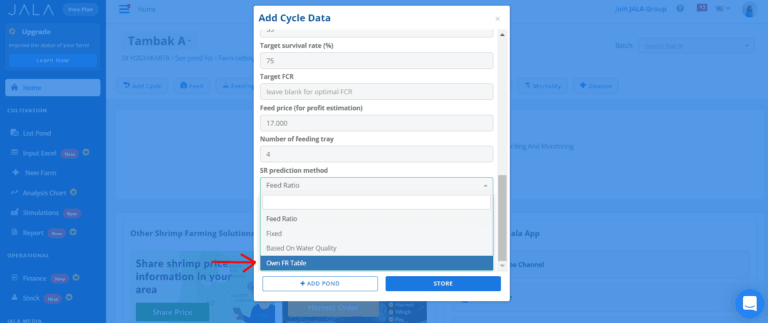 Remember! The more comprehensive your data record, the more accurate the predictive analysis on JALA App.
The FR Table feature is available in the most recent version of the JALA App web. Register now and enjoy the benefits of its features!